Friends welcomed at The Shed
Published on 08 February 2019 02:26 PM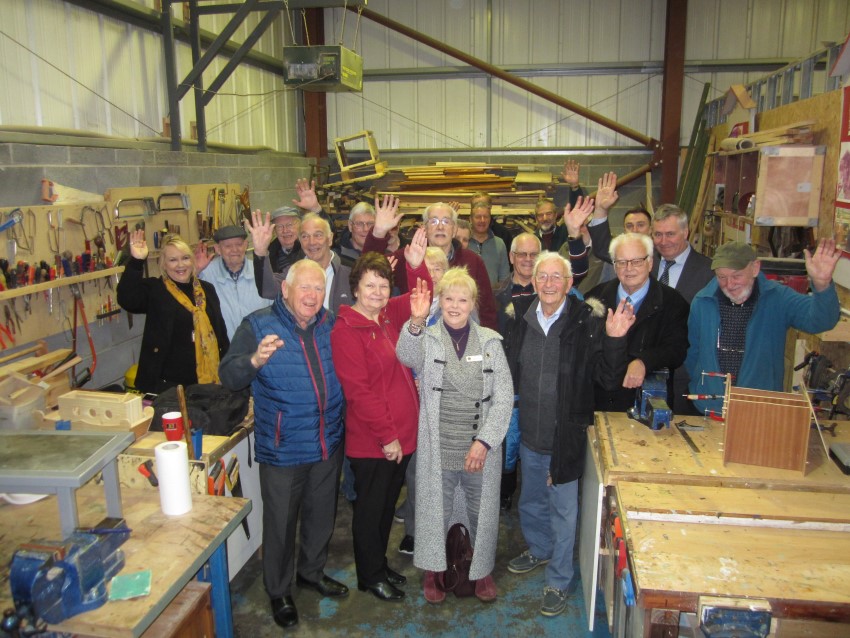 Friends new and old were welcomed for a cup of tea and a chat on Thursday 7th February 2019, as Bromsgrove Men In Sheds hosted the first of its planned Open Days.

The event coincided with national 'Time To Talk Day' (which encourages people to have a conversation about mental health) with the Shedders keen to raise awareness of the positive impact that their group is having on the local community. This Age UK Bromsgrove, Redditch & Wyre Forest group (which is based at the Metal & Ores Industrial Estate in Stoke Prior) has been operating since 2016, providing a supportive and friendly setting where people can come together to socialise and learn new skills.

Thursday's event was attended by several of the Shedders' sponsors and supporters including representatives from Phoenix Group (who recently hosted a sale of Bromsgrove Men In Sheds products and a raffle, raising over £900 for the Shedders!), Ormerod Rutter Chartered Accountants, Bromsgrove Lions Club and Rotary Club of Bromsgrove. The Shedders also welcomed visitors from Berrington Court (Wyre Forest), Stoke Prior Parish Council and Primrose Hospice, as well as several prospective new 'Shedders'!!!

Speaking about the Open Days, Jo Hughes from Age UK BRWF said:

"We are so very grateful to local businesses, organisations and members of the local community for their support of Bromsgrove Men in Sheds. It has been almost a year since we launched the Shed Share scheme and, thanks to the local community and the amazing efforts of the Shedders during 2018, people are now talking about Bromsgrove Men In Sheds! Our aim for 2019 is to build upon this support and to encourage more people to get involved as Shedders and/ or as supporters so that we can reach and involve more people! Visitors are always welcome at the Shed, but the Open Days are an opportunity for people to come along and find out more about this fantastic, local initiative and to join the Shedders for a chat and a cup of tea and to find out how they could get involved."

The next Bromsgrove Men In Sheds Open Day is planned for Saturday 23rd March (11am-3pm), and the Shedders would like to encourage anybody that is interested to come along!
For more information about Bromsgrove Men In Sheds and the Open Days please contact Jo Hughes at Age UK BRWF on 01527 868855. You can also watch the 'Men In Sheds – A Closer Look' video at https://youtu.be/p_SBhOZQgeg