Memorial Benches given new lease of life thanks to Shedders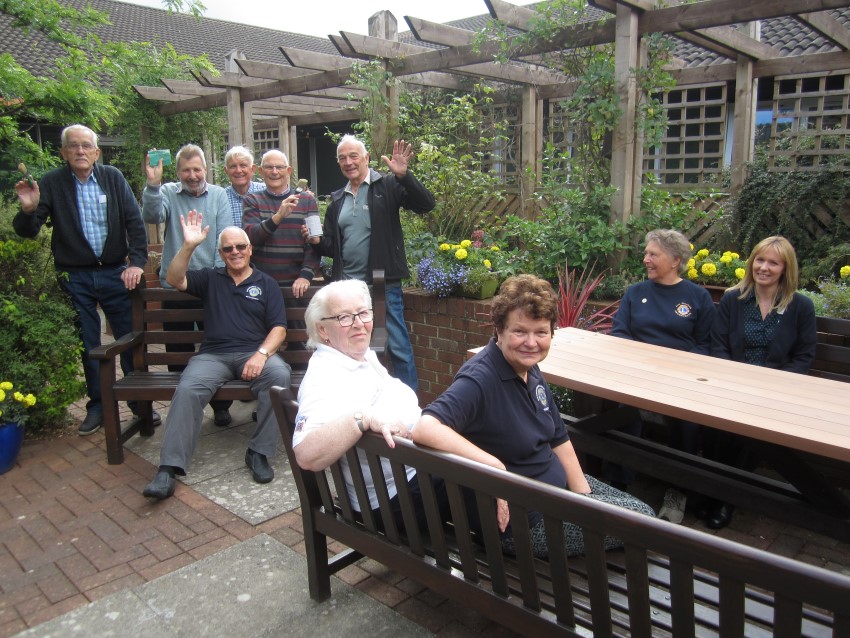 Published on 17 September 2019 05:40 PM
Members of Bromsgrove Lions Club and Bromsgrove Men In Sheds have come together to celebrate the benches having been given a new lease of life! The benches have been donated in memory of loved ones over several years and form such a key part of the Pat Chippendale Memorial Garden at the Princess of Wales Community Hospital.
For the last nine years Bromsgrove Lions have been maintaining this much valued 'haven' for patients, visitors and staff, but with nine benches in urgent need of repair and refurbishment they approached Age UK BRWF to see if the Bromsgrove Shedders could help.
Over the last few months several benches have been taken to 'The Shed' (located at the Metals & Ores Industrial Estate) and, one-by-one, they have been restored to the extent that one recent visitor to the garden commented 'they look brand new'.
Claire Taylor, PA to the Matron of POWCH, said 'We are so very grateful to Bromsgrove Lions. They do such a fantastic job creating and maintaining this wonderful space which is so valuable to our patients and visitors. I can't believe how the benches have been brought back to life!'
Lesley Godwin of the Lions added 'We could not have done this without the support of the Shedders – they really have done such a professional job which will hopefully ensure that the benches will be here for people for many years to come'.
Speaking about the involvement of the Shedders in this project, Age UK BRWF's Jo Hughes said 'We are so very grateful to Bromsgrove Lions for all of the support that they have given to Bromsgrove Men In Sheds. Being involved in this community project has not just enabled the Shedders to show their appreciation to the Lions, but it has also shown how, by working together, we can make more of a difference'.
To find out more about how you can get involved with and/ or support Bromsgrove Men In Sheds contact Jo Hughes at Age UK BRWF on 01527 868855 or visit www.ageuk.org.uk/brwf/activities-and-events/men-in-sheds/