Open Days at the Shed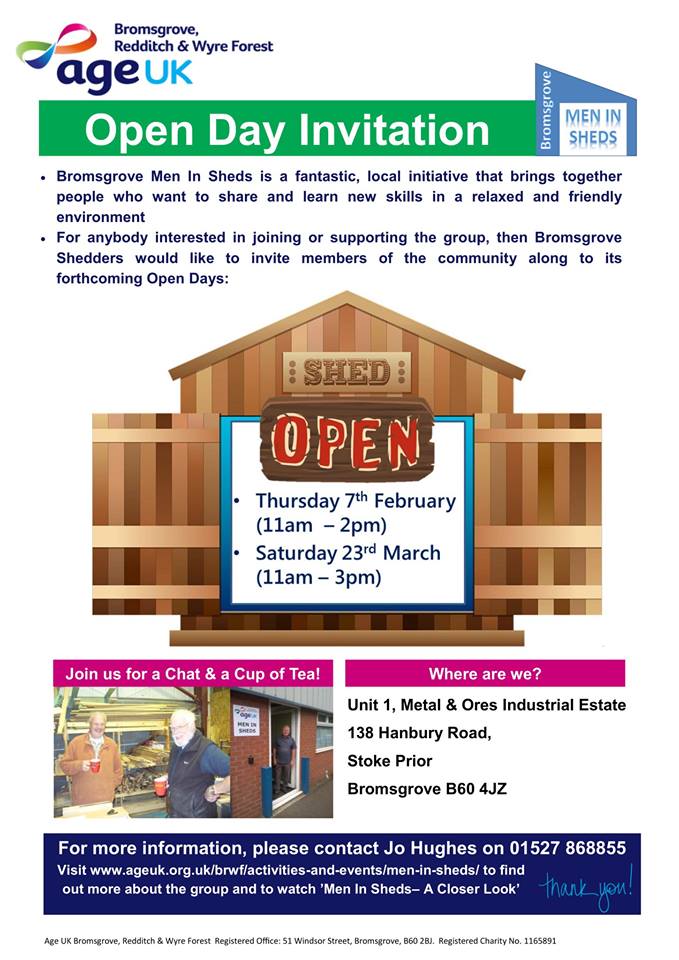 Published on 05 February 2019 06:09 PM
The Bromsgrove Shedders are inviting members of the community along to its forthcoming Open Days on Thursday 7th February (11am-2pm) and Saturday 23rd March (11am-3pm).
Speaking about the planned Open Days, Jo Hughes from Age UK BRWF said;
"We are so very grateful to local businesses, organisations and members of the local community for their support of Bromsgrove Men in Sheds. It has been almost a year since we launched the Shed Share scheme and, thanks to the local community and the amazing efforts of the Shedders during 2018, people are now talking about Bromsgrove Men In Sheds! Our aim for 2019 is to build upon this support and to encourage more people to get involved as Shedders and/ or as supporters so that we can reach and involve more people!
Visitors are always welcome at the Shed, but the Open Days are an opportunity for people to come along, to join the Shedders for a chat and a cup of tea and to find out more about this fantastic, local initiative."
For more information about Bromsgrove Men In Sheds and the Open Days please contact Jo Hughes at Age UK BRWF on 01527 868855. You can also watch the 'Men In Sheds – A Closer Look' video at https://youtu.be/p_SBhOZQgeg