Shedders' support for local First School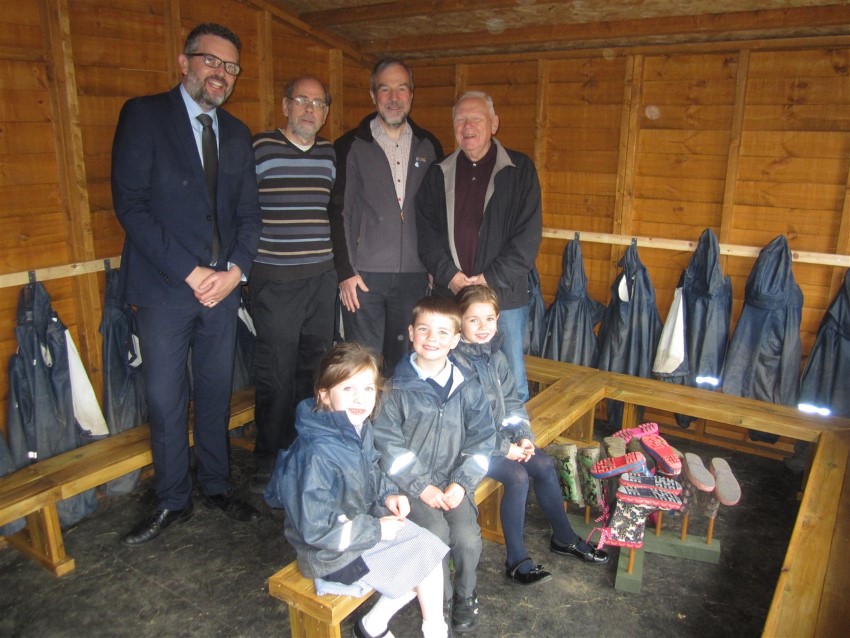 Published on 24 May 2019 05:26 PM
When Stoke Prior First School needed some bespoke benches for their Forest School Cabin, they contacted Age UK Bromsgrove, Redditch & Wyre Forest Group to see if the Shedders might be able to help.
Shedders met with Forest School Leader, Eleanor Pincher, at the beginning of the year to get a better understanding of the how the Cabin was being used and what was needed – the resulting benches were successfully installed a few weeks ago and are already an integral part of the Forest School Cabin.
Speaking about the Shedders support, Stoke Prior Head Teacher, Mr Leigh Satchwell, said; "The support from Bromsgrove Men In Sheds has been great as it has provided us with an affordable way to enormously improve our facilities. I have no doubt the benches are going to be used by pupils of the school for many years to come"
Forest School Leader, Mrs Eleanor Pincher, added; "We are really so very pleased with our Cabin Benches. The Shedders were incredibly friendly and professional to work with and we are looking forward to working on other projects with them in the future".
Speaking on behalf of Age UK Bromsgrove, Redditch & Wyre Forest, Jo Hughes said "We are really grateful to the local community for all of the support that they have shown to Bromsgrove Men In Sheds since we launched the Shed Share Scheme in March 2018. Projects such as this, with Stoke Prior First School, give us the opportunity to 'give something back' as well as helping to raise awareness of this fantastic group, their collective skills and the difference that they are making",
Bromsgrove Men In Sheds are based at Unit 1, Metal & Ores Industrial Estate, Stoke Prior B60 4JZ. Anyone interested in joining or supporting Bromsgrove Men In Sheds can find out more by contacting Jo Hughes at Age UK BRWF on 01527 568855, by watching the 'Men In Sheds – A Closer Look' video produced by students from HOW College and/ or by popping along to 'The Shed' (Mondays to Thursdays, 10am-2pm).