Can you help us tackle loneliness?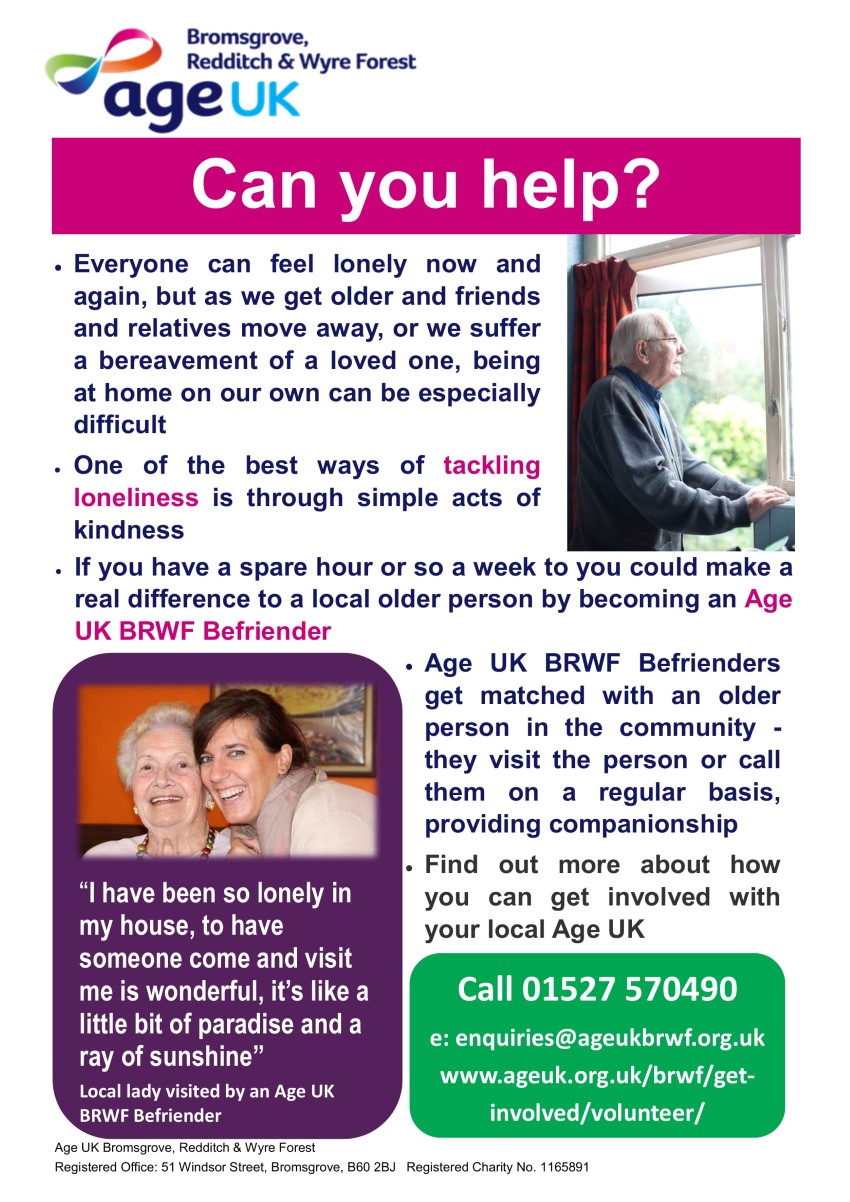 Published on 15 January 2020 10:02 PM
Age UK Bromsgrove, Redditch and Wyre Forest is appealing to members of the Redditch Community in 2020 to help the charity tackle the increasing levels of loneliness being experienced by local older people by becoming Befriending Volunteers.
Everyone can feel lonely now and again, but as we get older and friends and relatives move away, or we suffer a bereavement of a loved one, being at home on our own can be especially difficult. Health problems or other circumstances can make it hard to get out and about, stay in touch with people, or form new friendships.
Thanks to funding from Redditch Borough Council's Councillor Community Grant Scheme (and the support of Councillors Joanne Beecham and Tom Baker-Price Beecham) Age UK BRWF is looking to develop its Befriending & Care Call service in Redditch, with an initial focus upon the Headless Cross & Oakenshaw areas.
A Befriending service is where a volunteer will regularly visit an older person, or someone with a health problem, in their own home, or will phone them for a chat. The arrangement is based on friendship and the idea is that the volunteer Befriender will get as much out of meeting the person in their home as the person does out of meeting the Befriender.
Speaking about the service, Age UK BRWF's CEO Sam Humphray said;
"As a charity, we are acutely aware of the impacts that loneliness can have on an older person's health and wellbeing. However, we also know the difference that our Befriending & Care Call service makes to members of the local community, with people regularly telling us how much they value the ability to talk, listen and share information with another human being, who they feel they can trust and rely upon. We are really grateful for the funding that we have received through the Community Grant Scheme to help support the development of the service in Redditch, but in order for us to reach and support more people we need the support of local residents (who can regularly commit to an hour or so a week to visit a local, older person) to become Befrienders so I would like to appeal to people to get in touch with us to find out how they can get involved."
To find out more about getting involved as an Age UK BRWF Befriender, please contact Jo Hughes at Age UK BRWF (Tel 01527 868855/ Email Jo.Hughes@ageukbrwf.org.uk). A short video and additional information about becoming a Befriender can also be found by visiting the Volunteer section of the charity's website.