Coronavirus - A lesson on 'Community'
Published on 06 May 2020 09:40 AM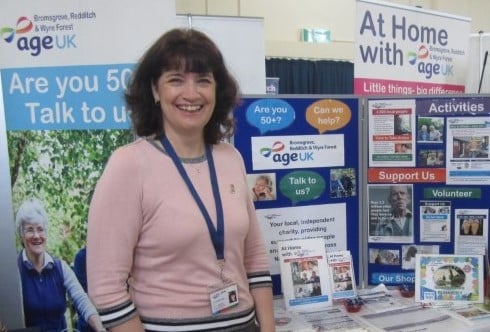 Age UK BRWF CEO, Sam Humphray, talks about how the current Coronavirus crisis is giving us all a lesson on 'Community'
I think that it would be fair to say that our communities have become very different places, and that all of our lives have all undergone some considerable changes in recent weeks.
As a local charity, providing support and services for older people across North Worcestershire, Age UK BRWF's specialist knowledge, expertise and practical support services have never been in such demand as they have been these last few weeks, as we all strive to do our best to get through the current crisis.
Whilst these are stressful and worrying times for us all, I have been incredibly heartened by all of the offers of help and support that we as a charity have received, as well as the various groups and initiatives that have sprung up across North Worcestershire - like all challenges, Coronavirus has also shown what is possible when we come together to solve problems and support one another.
At Sajid Javid's Pensioners Fair in February, in partnership with Bromsgrove's Ageing Well Group Sub-Group, we circulated an initial questionnaire as part of our work to help create more 'Age Friendly Communities'. As part of the responses to the questionnaire, only a third of the 150 people that took part said that they felt that older people are valued as members of their local communities.
Social distancing is bringing our communities closer and it has highlighted how intergenerational relationships are important for those in later life to feel connected to their community and improve their wellbeing. Whilst the current 'neighbourliness' that we are experiencing is something to be celebrated, we need to look at how we keep it going for the duration of this crisis and beyond, as we adapt to the challenges and opportunities of demographic changes.
Like all local charities, these are uncertain times for Age UK Bromsgrove, Redditch & Wyre Forest (a significant proportion of our income to fund our local work comes from our charity shops – their closure is having a significant impact upon our finances), however I hope that this is an opportunity for us all to re-assess and come together to support our neighbours and our communities in the longer term, so that the next time we undertake a survey, a majority of our older people responds that they 'do feel connected' and that they 'do feel valued'.
To find our more about Age UK BRWF's support and services, and how you can get involved and support the charity (through volunteering, supporting its charity shops and/ or fundraising) please visit www.ageuk.org.uk/brwf/ or contact Jo Hughes (Tel 01527 868855/ Email Jo.Hughes@agukbrwf.org.uk)