New Online Donation Platform for Age UK BRWF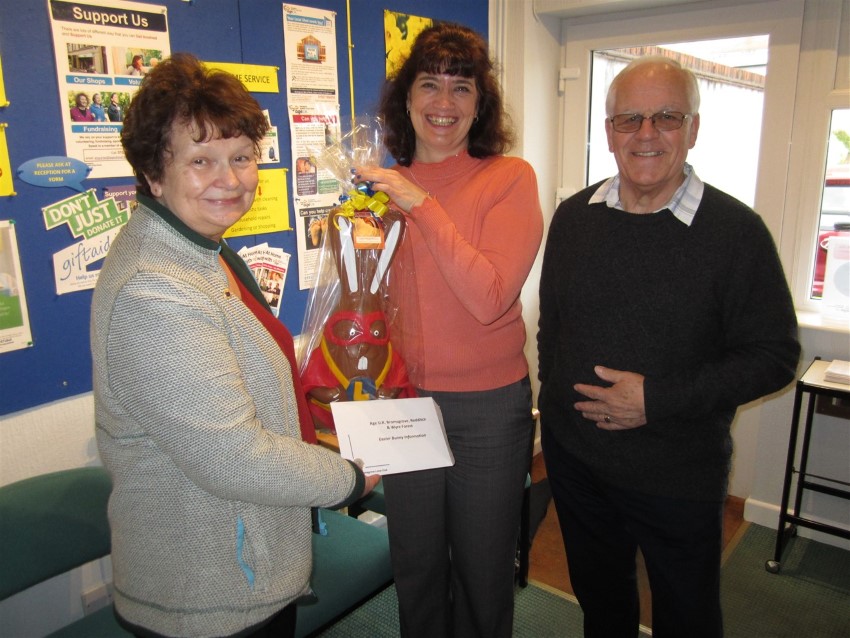 Published on 07 April 2020 03:05 PM
Over the last few days we have moved to a new online donation platform with Virgin Money Giving (following the closure of Wonderful.org at the end of March) - we launched our site with our Easter Bunny Campaign.
For anybody that follows Age UK BRWF on Facebook, then you will be aware that a few weeks ago the Bromsgrove Lions Club donated a fantastic Chocolate Super Hero Bunny (handmade by the Jinney Ring's Chocolate Deli, using the finest Belgian Chocolate) which we were planning to raffle to help raise funds for Age UK BRWF's local support and services.
The #SuperHeroBunnyTour started at our Church Street Shop on the 20th March, with the Chocolate Bunny being accompanied by some of Bromsgrove Men in Sheds' Easter Bunnies, acting as minders. Unfortunately, following the updated Government advice on 23rd March, all of our shops had to close – the Tour was cancelled and the Bunny had to go into isolation at the home of our CEO, Sam Humphray.
Not to be deterred in his fundraising mission, like a lot of people, the Super Hero Bunny decided to go online and set up a 'Virtual Raffle' to help raise funds for Age UK BRWF at a time when its support and services have never been needed more.
For a minimum donation of £5, anybody that wishes to take part will have 20 chances to win this amazing Easter Bunny. As a BONUS, two unique wooden Bunnies created by Bromsgrove Men In Sheds are also being offered as a Second and Third Prize. Please visit our Easter Bunny Campaign page if you would like to find out more!
Age UK BRWF would like to say a massive 'THANK YOU' to everybody that has supported the campaign so far! We would also like to say a massive 'THANK YOU' to those people that have made donations to the main fundraising page, including the person that made a donation and left the comment 'We hope that this will help a little' - it (along with your support) means so much and it will certainly help a lot!!!
At a time when our support and services have never been needed more we THANK YOU FOR YOUR SUPPORT !!!
Can you help?
We rely on your support to help us maintain our important services - please find out more about how you can help make a difference for local older people in North Worcestershire. Thank you!