Supporting a Good Cause this Christmas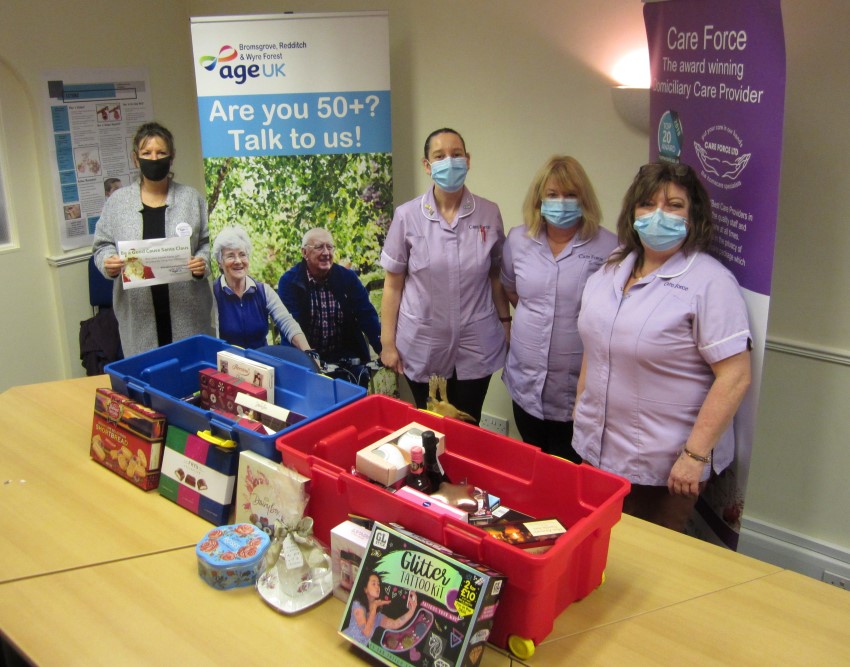 Published on 04 December 2020 02:47 PM
Kind-hearted staff at Care Force Ltd have come together to help support Age UK BRWF with its involvement in the Good Cause Santa Claus campaign this Christmas.
The annual campaign, organised by the Charity Retail Association, encourages anybody that is taking part in a Secret Santa (or who is seeking Christmas presents in general) to buy their gifts from charity shops to help raise much needed funds for good causes.
With its charity shops closed for lockdown throughout November (and unable to accept donations), the Age UK BRWF team sought the help of Care Force Ltd. The staff at Care Force (who, earlier this year nominated Age UK BRWF as its charity of the year) were only too happy to help, with a donation station being set up at Care Force's Bromsgrove office.
Earlier this week Age UK BRWF's Head of Retail, Sue Howdle, visited Care Force to collect the donated items. Speaking about local care company's involvement she said,
"We really appreciate the support of the Care Force team – they have collected some amazing items that will make perfect gifts for someone this Christmas and will help raise funds to provide important support and services for local older people. Whether it is gifts, decorations or just treating yourself to something with a bit of colour and sparkle, charity shops have so much to offer this Christmas, so please support your local good cause."
Care Force's Support Coordinator, Joanne Jacobs added,
"Care Force have been assisting people in the Bromsgrove area for over 25 years and we believe we are woven into the fabric of the community. Our care workers and the management are local residents and we all take pride in supporting, not only our Service Users, but such an exceptional local charity as Age UK BRWF and we look forward to many more rewarding events in 2021!"
Support a Good Cause this Christmas
Find your nearest Age UK BRWF Shop and help make a difference this Christmas!