Age UK BRWF celebrates after receiving National Lottery funding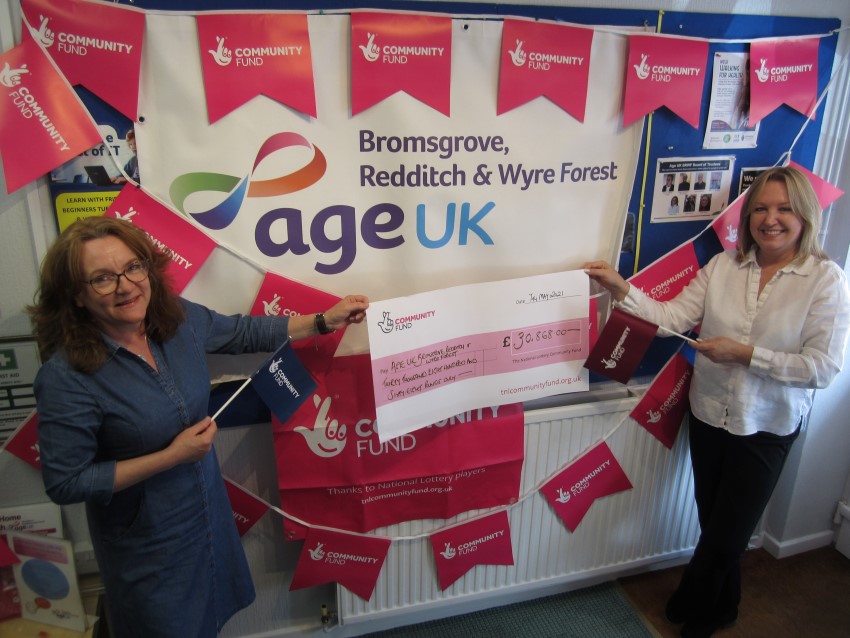 Published on 26 May 2021 12:31 PM
Staff at Age UK Bromsgrove, Redditch & Wyre Forest are celebrating after the local charity was awarded almost £31,000 in National Lottery funding to supporting its Befriending service. The charity, which provides support and services for people aged 50+ living in North Worcestershire, will use the funding to support members of its communities with overcoming some of the longer-term effects of the pandemic, including increased feeling of loneliness, isolation and a loss of confidence.
Befriending is one of the charity's core charitable services, providing local people with friendship and support through regular calls or visits from a volunteer. With the introduction of the first lockdown, the service quickly had to adapt to being a 'Telephone-Only-Service'. Whilst the charity has seen a significant increase in the 'demand' for the service these last 14 months, it has also experienced a change in the 'need' and in the tone of the conversations, with people that had previously expressed quite a positive 'social outlook' now expressing a 'nervousness' about being around others.
The funding from The National Lottery Community Fund (which distributes money raised by National Lottery players for good causes and is the largest community funder in the UK), will contribute towards the core operating costs of the Befriending service to ensure that this important and much-valued support can continue, whilst the charity recovers its financial position following the pandemic.
Recent research carried out by The National Lottery Community Fund evidences the importance of Age UK BRWF's work. People across the West Midlands region have a firm sense of the challenges their community faces, with almost half (46%) saying that reducing loneliness and isolation is important for their community's wellbeing this year.
Whilst telephone support will continue to be an important part of the service, this funding will enable Age UK BRWF to develop a more flexible (and Covid-secure) approach to help members of the community to re-establish those all-important face-to-face social connections (including more Doorstep Coffees/ Garden Visits, accompany people on visits to the shops to help them rebuild their confidence and more 'Buddying' support).
Speaking about the award, Age UK BRWF's Acting CEO Amanda Allen said, "As a charity, we are acutely aware of the impacts that loneliness can have on an older person's health and wellbeing. As lockdown restrictions are eased, there is the potential for a growing divide between those able to restart their social connections and those (such as those that have been shielding) who feel that they cannot. Thanks to the National Lottery players we can now not only maintain our current levels of support but can also develop the service to respond to the needs of our communities and reach those that need our help most. We have an absolutely amazing team of Befriending volunteers but to help us to grow the service, we also need more people to get involved. So if anybody can spare a few hours a week, and would like to make a real difference to a local older person, I would encourage them talk to us about becoming a Befriender!"
Nicola Thurbon, Senior Head of Regional Funding for the Midlands at The National Lottery Community Fund, said: "We are pleased to be funding Age UK BRWF, whose staff and volunteers have worked tirelessly throughout an incredibly difficult year to offer support to people experiencing loneliness. Thanks to National Lottery players, who raise £30 million each week for good causes across the UK, people will continue to benefit from telephone befriending - particularly those who have had to shield or isolate."
Find out more about our Befriending Service
Find out more about Age UK BRWF's Befriending service (including a copy of our service leaflet)
Can you help us to make a difference for older people?
Find out more about Befriending and our other Volunteering Opportunities across North Worcestershire