Age UK BRWF's 'Upcycling Retail Superhero' Challenge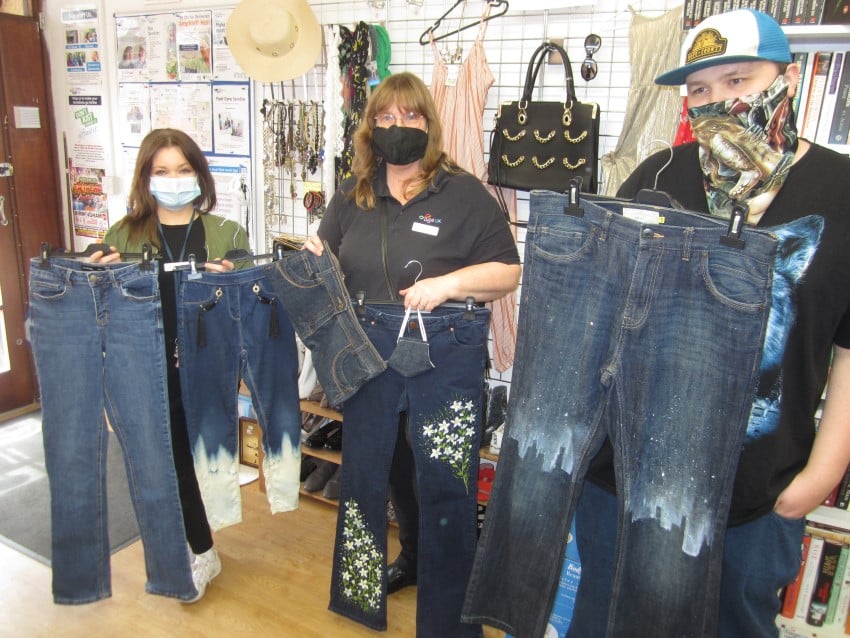 Published on 28 June 2021 08:38 PM
Staff at Age UK BRWF's Charity Shops are challenging us all to think more sustainably and creatively when it comes to fashion!
Age UK BRWF's Charity shops have always been a fantastic place for good quality and affordable clothes but, with increasing concerns about the environment (it is estimated that the UK throws away 350,000 tonnes of good quality clothes each year), more and more people are now looking to charity shops for sustainable fashion.
Since re-opening in April, Age UK BRWF's eight shops have been involved in several initiatives to help promote the benefits of 'pre-loved' clothing, and to encourage more people to visit their local charity shops. With its #RetailSuperheroesChallenge, the shops went head-to-head with one another to see which shop could create the best 'themed outfit' (from Spring Fashion to Outfit-to-wear-to- the-Cinema) - the outfits were showcased on the charity's social media pages, with people being able to vote for their favourite outfit in a Facebook Poll.
For its next challenge, the Age UK BRWF's Retail team are seeking the involvement of members of the community! Each of shop is looking for a member of its local community to become its 'Upcycling Retail Superhero'. The Superhero will be given a £10 Age UK BRWF Credit Note to acquire items from their charity shop, which they can then (with the support of the shop team) upcycle/ rework to create a new outfit or item. The outfit will then be showcased in their shop and on the charity's social media and website pages and each shop's outfits will then compete against one another, in a public vote. The winning Superhero will be announced on 2nd August, with the winner receiving a prize that includes a voucher from the Brenda Killigrew Sewing Studio, a voucher from Nature's Intention and an 'Afternoon Tea for Two' at Victoria Plums Kitchen.
To help illustrate the idea (and to give us all some inspiration) members of the charity's Church Street shop in Bromsgrove have been showing different ways in which you can transform a pair of pre-loved jeans and create your own unique look (along with matching accessories)!
Whilst the team are keen to promote the environmental message, they are also keen to stress how every item bought from, or donated to, an Age UK BRWF shop helps to make an important difference for local older people by raising essential funds so that the charity can continue providing support (such as is free Information & Advice service) for people aged 50+ living in North Worcestershire. So when you shop at a charity shop, you can really shop-and-make-a-difference!
Age UK BRWF's 'Upcycling Retail Superhero' challenge is scheduled to run during July (with a closing date of 3rd July for anybody that would like to become their local shop's Superhero), so please visit your local Age UK BRWF shop, and follow the charity's social media pages for more information. Alternatively please contact Jo Hughes at Age UK BRWF (01527 868855 / Jo.Hughes@ageukbrwf.org.uk)
Find out more about our shops
To find out more about our shops contact us on 01527 570490 or email: enquiries@ageukbrwf.org.uk