Be a Good Cause Santa Claus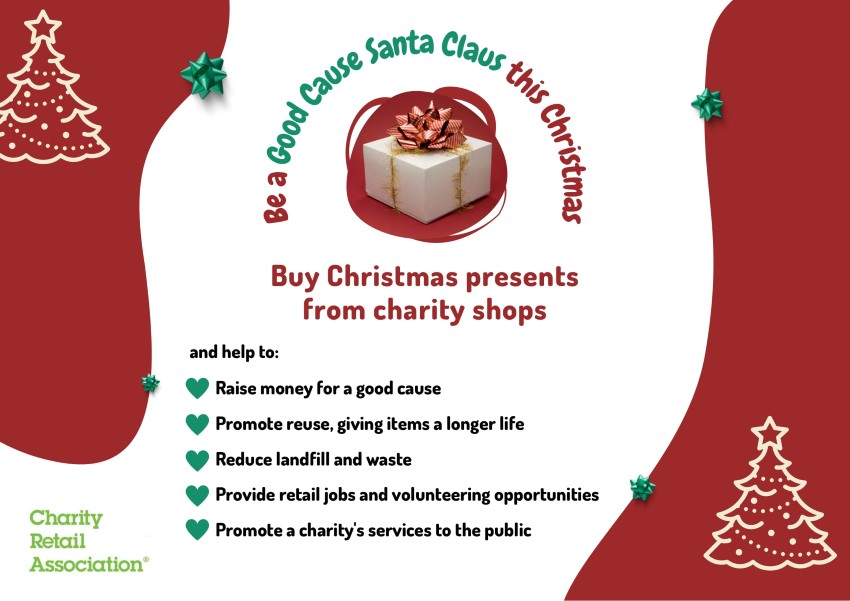 Published on 22 November 2021 06:05 PM
Age UK BRWF are pleased to be supporting the Charity Retail Association's annual campaign to promote the benefits of buying pre-loved gifts from charity shops this Christmas.
The #GoodCauseSantaClaus campaign seeks to encourage more people to buy pre-loved gifts and where possible to include a note with their gift letting the recipient know that their present has helped the planet, raised money for good causes, and brought communities together. A sample note can be downloaded here.
Each year, charity shops raise around £330 million for good causes and divert around 340,000 tonnes of textiles from being disposed of as waste.
Robin Osterley, Chief Executive of the Charity Retail Association commented:
"What better way to celebrate the spirit of Christmas than buying pre-loved gifts which are unique, raise money for those in need, and help the environment. Shopping second-hand is a fantastic way to have an enjoyable, sustainable and charitable Christmas."
"Charity shops are full of a wide range of affordable, unique and stylish items which would make perfect gifts. From accessories that would style up any outfit, to rare vintage finds that would brighten any home and would be sure to be a talking point on Christmas Day. And more and more charity shops are selling online which means finding that ideal pre-loved gift is easier than it has ever been."
"Lockdowns and trading restrictions severely restricted sales in charity shops last Christmas, which is why we are so excited at the prospect of bumper sales this year to raise much needed funds for good causes."
Age UK BRWF currently has seven charity shops across North Worcestershire, in addition to an eBay Charity Shop, and over the coming weeks we will be using our social media to share examples of items which would make fantastic gifts, to help encourage more people to get involved with the #GoodCauseSantaClaus campaign and to help spread the word about the wonders of #Preloved!
Find your nearest Age UK BRWF Charity Shop
Find out more about Age UK BRWF's Charity Shops, including details of your nearest store!