Shedders make Land Rover Play Car for local school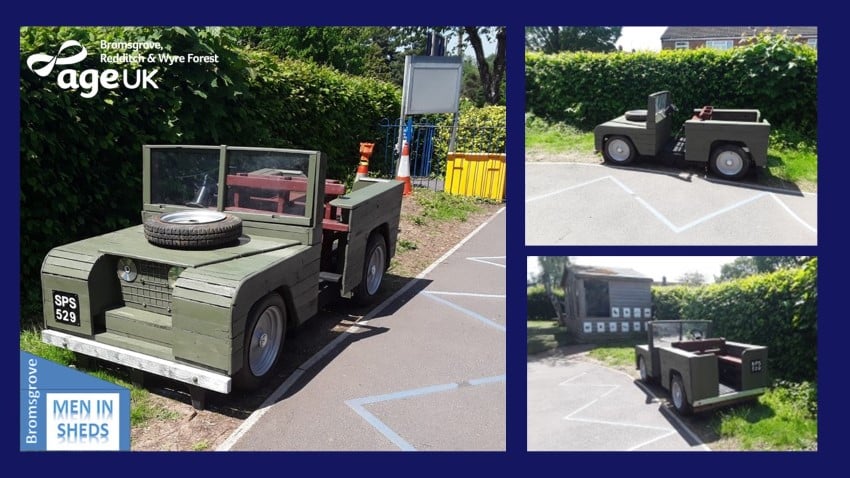 Published on 15 June 2021 10:25 PM
Pupils at Stoke Prior First School returned from their Spring Half Term Break to find a special surprise waiting for them in the in the playground - a Land Rover Play Car made for them by Bromsgrove Men In Sheds!
After making bespoke benches for the School's Forest Cabin in 2019, the Shedders embarked on a project to make a play car for the children using pallets and other recycled materials. The outbreak of the pandemic (and the closure of the Shed) meant that all work on the project came to a sudden stop, with the car sitting unfinished in the 'Shed' for over 15 months!
With the easing of restrictions on 17th May, the Shed (which is located at a unit on the Metal & Ores Industrial Estate, Stoke Prior) was able to re-open, in a limited capacity, and the Shedders got to work on completing the car, which was then installed in the playground during the half term break.
In response to the Land Rover's arrival, Stoke Prior First School's Head Teacher, Mr Satchwell said;
"We have been really pleased to accept an amazing play vehicle hand made by the Men in Sheds. The vehicle sits proudly in the Reception area of our school, and it has been a huge hit with the children. They are all really enjoying the role-playing opportunities that it offers, and they are regularly off on safari seeing all sorts of wild animals! What makes this vehicle even more special, is that it has been made entirely from repurposed materials and this is fantastic as we teach the children the importance of sustainability and recycling. From everyone at Stoke Prior, thank you!"
Speaking on behalf of Bromsgrove Men In Sheds, Jo Hughes from Age UK BRWF said:
"We are so glad that, after all this time, the car is now creating some fun and adventure, and is benefiting the local community! It is also so good to have the Shedders back! We have all come to appreciate the importance of 'social connections' these last 15+ months. Initiatives such as Bromsgrove Men In Sheds are really important with helping to prevent and tackle loneliness - with the measures that have been taken to help combat Covid-19 (including social distancing, shielding and lockdown), groups such as the Shed have never been needed more and it is important that we ensure that they can continue.'
Men in Sheds originates from an Australian project started in the 1990's, called Men's Sheds, as a way of tackling loneliness and social isolation in older men where retirement can mean loss of status and contact.
Anyone interested in joining or supporting Bromsgrove Men In Sheds (including taking part in its 2021 Shed Share Scheme) can find out more by contacting Jo Hughes at Age UK BRWF on 01527 568855 or by visiting our Men In Sheds website page.
Find out more About Men In Sheds
To find out more about joining Men In Sheds, call us on 01527 570490 or email: enquiries@ageukbrwf.org.uk
Your Local Shed needs You!
Find out how you can support Bromsgrove Men In Sheds through our annual 'Shed Share' sponsorship scheme