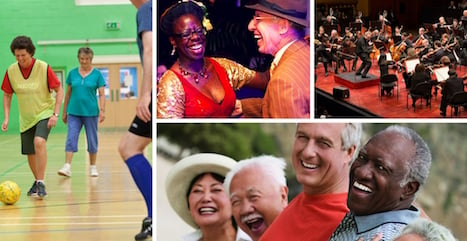 Get your work colleagues involved, round up your friends and family and any groups of which you're a member.
It's all for a great cause!
Give a Day in May
Host a fundraising activity during the month of May and donate the proceeds to help older people in your community.
Help us reach our targets and pay for day centre Christmas parties, Information and Advice or even a Wheelchair Accessible Vehicle!
What makes a good fundraising opportunity?

Anything can be a good fundraising opportunity - a dinner party, a film screening, van pulling or drastic haircuts. These are all fundraisers that have helped older people, but you might have some other ideas up your sleeve.
Is it going to be a sponsored activity or are you hosting an event?
What do you enjoy?
Where do your talents lie?
Can anyone help you?
Do think about how much time and effort you can spend on planning and organising the event. Remember, you're doing a good thing for charity, but it should be fun too.
5 popular fundraising events
1. The Great Cake Bake
Encourage your colleagues to bring in home-baked (or shop-bought) goodies to sell in the office. It's a simple way to raise money and will perk up the morning coffee break.
2. Get quizzical
Quiz nights take place in pubs across the UK and are always popular. Why not organise your own and raise funds for Age UK Maidstone?
3. Throw a party
Perhaps a themed dinner party, a murder mystery evening, games night, karaoke, barbeque – if it gets people together, it can be a fundraiser. Impress your guests with your hosting skills and charge them a small donation for the food or games.
4. Sponsored anything
Swim, walk, run, silence and pie eating! Most things can be sponsored so the choice is yours. What would your friends and colleague consider an absolute challenge or daring? Maybe they think you're inseparable from your iphone or unable to not get the car everywhere. Prove them wrong and some raise money for older people.
5. Go wild
Let your imagination run wild - the more creative the more publicity you may get and the more people might support you. So get that thinking cap on, is there a world record you could attempt or something that could involve all your work colleagues?
Take a look at our previous fundraisers to get some more inspiration.
We are here to help with advice, ideas and support as well as posters, collection tins, balloons and sponsorship forms. We can share tips on ranging from help getting things for free to how to market your fundraiser. Don't be shy give us a call!
Let us know what your plans are and how we can help you – drop us an email at info@ageukmaidstone.org.uk or call us on 01622 753618.
Previous fundraising events
More ways to fund raise
Do you ever wonder what happens to your stamps once you stick them on an envelope and pop it in to the post box?

Age UK is encouraging everyone to have a clear out and donate a bag full of unwanted items to raise much needed funds for our work supporting older people who are lonely.
Give as you live
Give as you Live is a free application for your computer that allows you raise money for Age UK Maidstone, while you shop online - at no cost to you!
You don't pay any extra for the items than you would normally and with Give as you Live, you can send an average of 2.5% of every pound you spend online to Age UK Maidstone doing your usual online shopping.