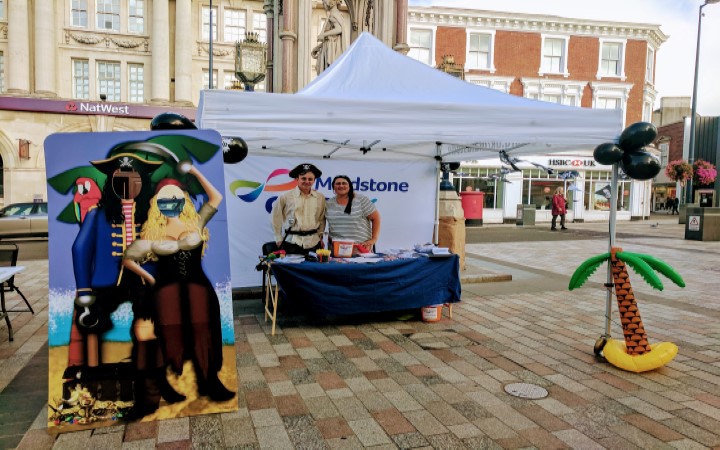 International Talk Like a Pirate Day is a parodic holiday created in 1995 by John Baur (Ol' Chumbucket) and Mark Summers (Cap'n Slappy) from the USA who proclaimed September 19 each year as the day when everyone in the world should talk like a pirate.
Age UK Maidstone adopted this day in 2016 as a fun way to raise awareness of the charity in the Borough of Maidstone.
We think it's a great way of bringing the young and the old together for a bit of swashbuckling fun while raising funds for the chairty.
September 19th 2017 saw our second year of adopting 'Talk like a pirate day'. It was a quiet one this year, but as usual our very own Jack Sparrow came on board to search the town for treasure.
So we went searching for treasure at The Stag, Bar 6 Maidstone, Old House At Home, Earls Maidstone and Ashes Sports Bar but all we found was rum…. After a quick trim Kamz Barber shop, Jack helped a local smuggler from Penta Foods- UK's Preferred Foodservice Company while on our way to Prohibition Vapes Co..
We would like to say a huge thank you to all our supporters and everyone that kindly donated to us on the day and Santander UK-Maidstone branch for also fundraising for us with their in bank cake sale.
If talk like a pirate day is something you would like to get involved with next year, don't hesitate in contacting us on 01622 753618 or email info@ageukmaidstone.org.uk
Also, Jack Sparrow @ukjacksparrow is available for hire at parties or events for a few doubloons.
Want more?
You can find all the photos from the day on our Facebook page