Please note that our day centres are currently on hold due to COVID-19.
Our day care facilities operate in the area covered by Maidstone Borough Council. We work in partnership with Golding Homes to deliver this service in a number of their day centres. We also run one day care facility in partnership with Kent Community Health.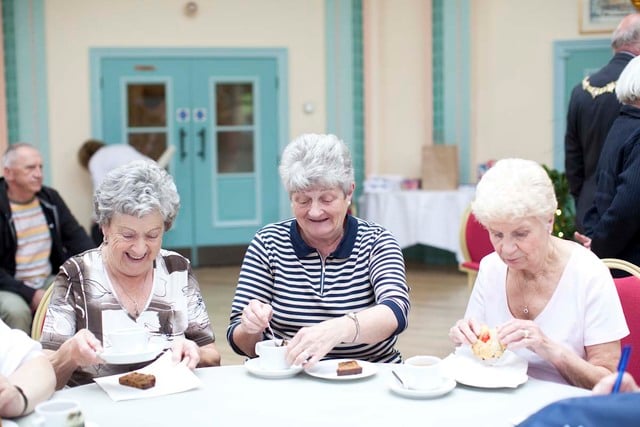 Our day care services provide an opportunity for clients who are at risk of social isolation a chance to interact with like minded people and reduce loneliness. Whether you are enquiring for yourself or someone you know that may have lost a loved one or would like to make some new friends or think it's just about time to try something new, Age UK Maidstones day care services could be the answer.
What is included?
The clients will enjoy a two course hot lunch including refreshments. They will also have the opportunity to join in a range of activities such as bingo, raffles and quiz's. Once a month we will put on live entertainment for each of the centres to enjoy. Twice a year we will also take day trips out, in previous years we have been to The Pilot in Dungeness and various garden centres.
What benefits are there to day care?
Providing social contact and stimulation.
Reducing isolation and loneliness.
Maintaining and/or restoring independence.
Providing a break for carers.
Offering activities which provide mental and physical stimulation.
Enabling care and monitoring of very frail and vulnerable older people.
Offering low-level support for older people at risk.
Assisting recovery and rehabilitation after an incident, illness or accident.
Promoting health and nutrition.
Providing opportunities for older people to contribute as well as receive.
Where and when are the day centres operated?
The day at the centres run between 10am and 2pm. If the client is using transport we require them to be ready at 8:45am and expect to be taken home by 4pm at the very latest. The exact time clients are picked up is dependent on their placement in the bus run. Our day care facilities operate in partnership with Golding Homes in the following locations:
Parkwood, Rosemary Graham Centre, Somner Walk, Parkwood, ME15 9PR
Harbledown House, Fant Lane, Barming, ME16 8NZ
Green Borough, Green Borough Close, Cornwall Close, Shepway, ME15 8JN
Shepway Court, Norfolk Road Shepway, ME15 7JF
How much does it cost?
The price is £14.20 for the day including lunch and refreshments. If you live on one of our transport links and require transport there is an additional charge of £10.00. (Prices from 1st June 2019)
How do I access this service?
Whether you are enquiring for yourself or somebody else, you would need to register with this service. Please ensure you have the clients consent before making a referral on their behalf.
To register you can either call us on 01622 753618 or complete the online referral form below: