Age UK Maidstone offers a free and confidential information and advice service for older people, their families and carers.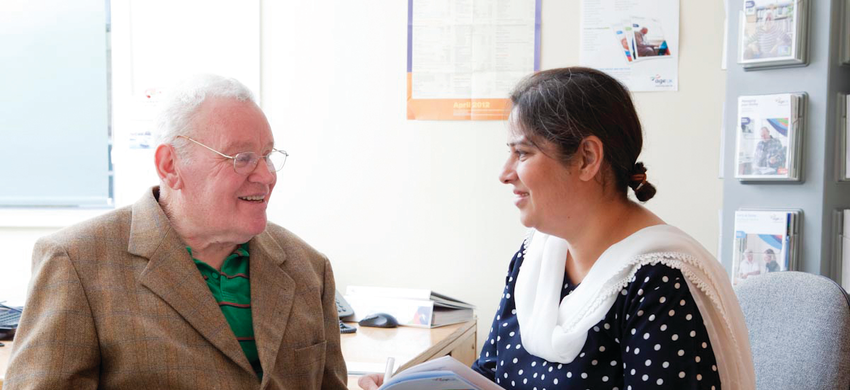 I&A can be provided to those aged 50+ who live in the Maidstone Borough Council area, as well as anyone who cares for them. Clients can access the service via phone, email, office appointment or home visit (for those who are housebound only). I&A is, and always will be, a free service.
Topics covered
Welfare benefits:
Benefit checks.
Form filling for: Attendance Allowance, Personal Independence Payment (PIP), Disability Living Allowance (DLA), Employment and Support Allowance (ESA), Job Seekers Allowance (JSA), Universal Credit (UC), Carers Allowance, Pension Credit, State Pension, Housing Benefit, Council Tax Support, Council Tax Reduction.
Support with writing Mandatory Reconsideration requests.
Advice on preparing appeal papers for Tribunal Hearings.
Housing:
Supporting people to understand and navigate the range of options available.
Help with applying to the Housing Register.
Health & Social Care:
Advice on accessing Social Care support for both funded & self-funded clients.
Advice on statutory rights to Assessments.
Advice on hospital discharge procedures.
Others:
Information on Power of Attorney only (not advice or help with applications).
Help with Blue Badge and Disability Bus Pass applications.
Topics not covered
Legal advice
Financial advice
Immigration advice
Neighbour disputes
Advocacy
How do I access the service?
You can access our information and advice service in a number of ways.
By phone: 01622 753618
By email: advice@ageukmaidstone.org.uk
At our office: Appointment nessessary, 7 Mill Street, Maidstone, ME15 6XW
Welfare benefits
Attendance Allowance: 0800 731 0122
Personal Independence Payment new claims: 0800 917 2222
Personal Independence Payment enquiry line: 0800 121 4433
Universal Credit helpline: 0800 328 9344
Employment and Support Allowance: 0800 055 6688
State Pension, new claims: 0800 731 7898
State Pension, enquiries: 0800 731 0469
Local services
KCC Adult Social Services: 03000 41 61 61
KCC Blue Badge Team: 03000 41 62 62
KCC General Enquiries: 03000 41 41 41
Maidstone Police: 01622 690 690
Maidstone Fire & Rescue Service: 01622 212445
Southern Water (waste water & sewage): 0330 303 0277
South East Water (fresh water supply): 0333 000 0001
SGN (gas network): 0800 111 999 to report a gas leak
UK Power Networks (electricity network): 105 to report a power cut or emergency
Voluntary services
Involve Carers: 01622 685276
Involve Older People, Falls Prevention & Community Transport: 01622 235 833
Involve Cancer Support: 01622 230 721
Citizens Advice Maidstone: 01622 752 420
Citizens Rights for Older People: 01622 851 200
Kent Association for the Blind: 01622 691 357
Hi- Kent: 01622 691 151
Maidstone & Mid Kent Mind: 01622 692 383
Free booklets and online information
Age UK produces free information guides and factsheets on a wide range of topics, including home adaptations, dementia, and advice for carers. You can find a complete list of guides and factsheets on the Age UK national website.

If you prefer to read information online, the Age UK national website has information and advice on many topics, including how to find a care home, how to avoid scams, and Power of Attorney.