The Goodman Centre is a fully equipped, safe and homely day care
facility for those diagnosed with dementia at any stage.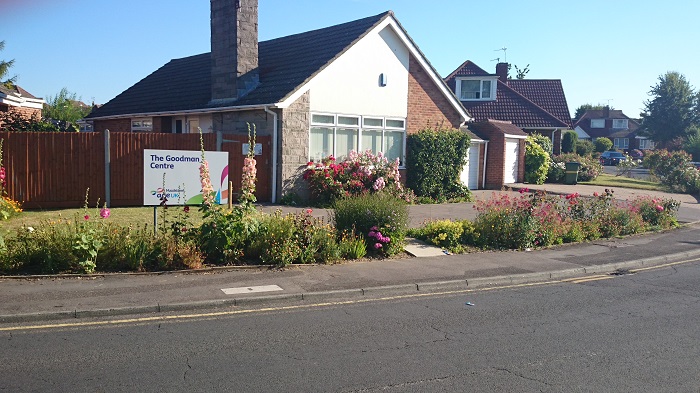 The Goodman Centre is a secure and homely bungalow specially designed for people diagnosed with dementia at any stage.
Our new sensory garden is the perfect place for clients to enjoy the fresh air in a safe, peaceful and engaging environment. This offers both the client and their carers a break from the struggles of the day to day life of living with dementia. We also provide a nutritious, hot, two course meal while to enjoy while spending your time with us.
Unlike most day care facilities, we are able to provide a specialist level of care which includes toilet assistance and administrating medication.
What is a sensory garden?
Let your senses take over while enjoying in your surroundings in this safe and harmonious garden...
We were extremely lucky enough to have our garden fully redesigned as part of the National Lottery funded 'Living through landscapes' project which seeks to improve outside settings for people who have dementia. Our garden is split in to two sections, our side garden has been completely dug up and repaved with the addition of raised plating beds for vegetables and flowers. Our back garden has also been completely repaved and levelled so it is more accessible for our physically disabled clients. Now everyone can enjoy the peaceful sounds of the water fountain while smelling the sweet scents of all the different kinds of flowers in a safe and secure environment.
When is the centre open?
The Goodman Centre is open five days a week Monday to Friday 10.00am to 4pm.
Do you provide a transport service?
Yes. Depending on your location we may be able to offer the client a space on our mini bus service at no additional cost. This service would limit the days available to you.
How much does it cost?
A full day is £52 - including a hot lunch and transport* to and from the centre.
A half day is £26 - including a hot lunch and transport* one way, depending on whether you want to spend the morning or afternoon at the centre.
*Get in touch with us to check whether transport on our minibus is available to you.
What activities can we expect?
The activities vary each week. We regulary review our activity plan to accomodate our clients interests. Most of our clients enjoy doing arts and crafts, board games, cards and physical games. At The Goodman Centre we love to mark a special date or occasion with a celebration and usually organise themed weeks to what events are happening at the time. On warm spring and summer days we like to get our clients out in the sensory garden, whether it's doing some gardening or just listening to the bird and getting some fresh air in a safe and secure enviroment.
Additional information
The service is available to residents of the Borough of Maidstone Social Services area.
We cannot promise to collect and drop off any client at the same time each day, this is due to uncontrollable circumstances e.g traffic. Collection times begin at 8am and drop off time ends at 6pm
All of our staff and volunteers have completed their Alzheimer's Society Dementia Friends training.
How do I access this service?
If you, a relative or someone you know is interested in attending The Goodman Centre, you will need to contact the centre and register your interest.
The Goodman Centre
6 Egremont Road
Bearsted
Maidstone
ME15 8LH
Tel: 01622 736 966