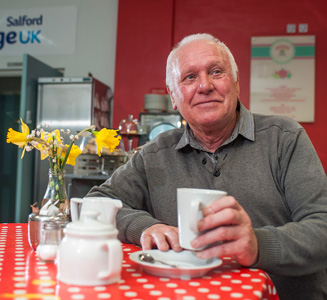 Age UK Salford is an independent local charity and has been working actively in the local community for over 40 years.
All our staff and volunteers carry photo ID and if you're unsure if the person is from Age UK Salford, please contact us on 0161 788 7300. (Mon - Fri 9am-4pm).
Who we are
Age UK Salford is an independent local charity. We've been working in the local community to help older people for over 40 years. We have over 70 dedicated staff and over 50 volunteers helping us to deliver services and activities for older people in Salford.
Age UK Salford Newsletter
Read our latest newsletter
Age UK has been proud to be part of the Jo Cox Commission on Loneliness which shines a powerful spotlight on the millions of lonely people living in our communities.
At Age UK Salford, we do all we can to support Jo's ambition that we do "not live in a country where thousands of people are living lonely lives, forgotten by the rest of us." Critchley Community Hub in Swinton has supported The Great Get Together for the last couple of years and we continue to offer support and services to older people accross the City. Our friendly staff and volunteers understand how easy it can be to lose touch with family, friends and neighbours and can help people, in different ways, to revive old friendships or build new ones and introduce them to vital services.
Age UK Salford is a partner in the Salford Age Friendly City programme. An Age Friendly City is a place where older people are able to keep healthy and engaged, safe and able to travel; find information, services and activities; have opportunities for paid and unpaid work and feel respected, that their voice is heard and they are included in neighbourhood life. Our simple Age Friendly Leaflet sums up our journey so far.
Age UK Salford's Critchley Community Hub in Swinton is a fantastic example of a local Age Friendly place. It's a welcoming centre, you can pop in anytime for a cuppa, browse in the shop, have a chat and find out about local information and What's On at Critchley.

One of our strengths is our volunteers, who are at the core of many of our services and we couldn't run places like Critchley Community Hub without them. The team were recently award The Queen's Award for Voluntary Services.
We know that not everyone can get around without help and that's why some of our services are for people who need more personal support. Our Humphrey Booth Day Centre in Pendleton is a purpose built, upbeat centre providing meals and socialising opportunities for people who need assistance.

Age UK offer a national Call in Time, a telephone friendship service for people aged 60+ who feel lonely or isolated and would benefit from having a regular chat over the phone.

One of the simplest but most powerful ways you can help is to look out for your older, and possibly lonely, family, friends and neighbours. If you're not sure how to help them look, use our website to find out more information or contact us on: 0161 788 7300 or by our online form.
Many of our volunteers started out by contacting Age UK Salford for a different reason other than volunteering, then kept in touch with us and became part of the Age UK Salford family. There are many ways you make a contribution; you can donate, fundraise for us, or leave a legacy to help make a difference to older people in Salford.
View the Age UK Salford photo gallery.