Big Knit 2022
Published on 02 March 2022 10:14 AM
Woolly warriors needed in Sevenoaks and Tonbridge area for the innocent Big Knit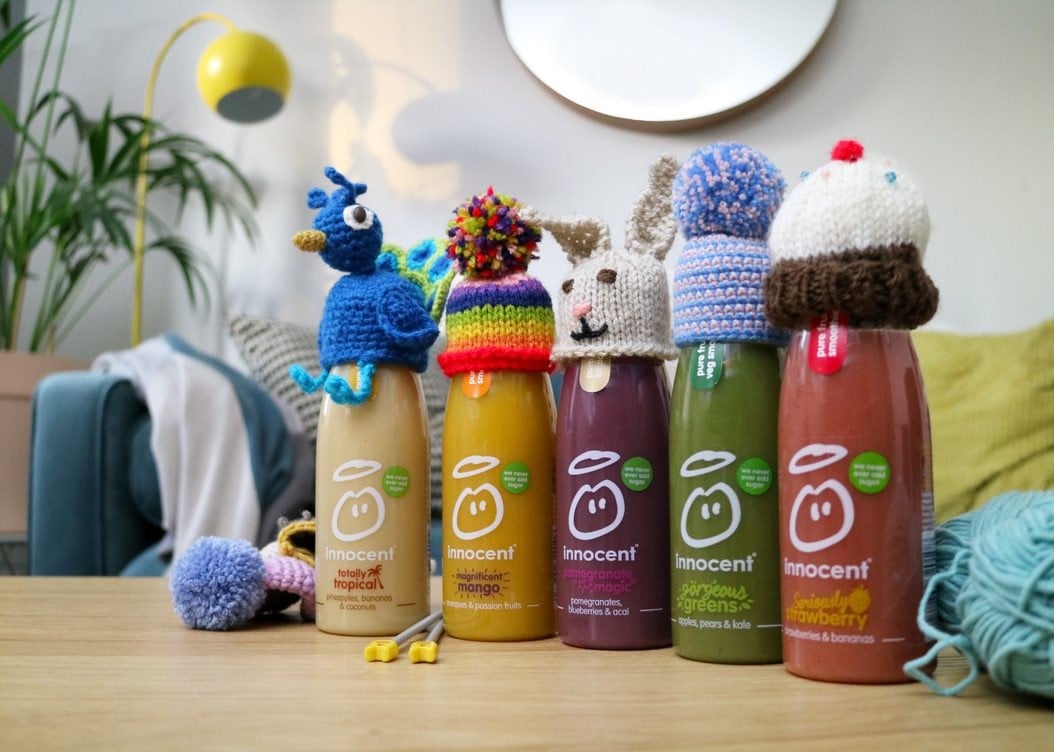 Age UK is asking the knitters of Sevenoaks and Tonbridge to use their wool power and get their knitting needles clacking to support older people through the innocent Big Knit campaign.
The campaign, which innocent drinks run in partnership with Age UK, needs woolly warriors to craft some little hats to sit on innocent smoothie bottles and get them to Age UK Sevenoaks and Tonbridge by 30th June 2022. For every be-hatted smoothie sold, 25p will go to Age UK, helping to make a huge difference to the lives of older people.
Winter can be a particularly challenging time for older people, with the cold weather making it more difficult to get out and about, and many older people struggling to keep warm. Whilst the colder weather means we're spending more time indoors, why not grab your knitting needles and start stitching to support the older people who need it the most this winter.
Louise MacPherson, Chief Officer of Age UK Sevenoaks and Tonbridge said: "Whether you're a stitching superstar or a knitting newbie, we're calling on the people of Sevenoaks and Tonbridge to join us and help knit as many little hats as possible. Not only is it a great activity to do during the colder months, but it's also a really fun campaign to be involved in.
"Many older people in our area will be facing a tough time this winter, but the money raised from these little hats will help make a huge difference to those that need our support. Every hat knitted will help to fund our vital services, including Dementia Services, Day Services, Independent Living Support, Information and Advice, Befriending and many others,."
Jad Marie, innocent drinks, said: "We're delighted to be continuing our work this year with Age UK on the Big Knit. After a really hard couple of years, we want to make this campaign as big as possible so we can help more older people than ever. We're incredibly grateful to all the heroic volunteers helping us get there."
There are exciting hat designs, including a cheeky monkey, fox cub, sheepish sheep and a unicorn, available to download now.
For more information on The Big Knit contact Age UK Sevenoaks and Tonbridge on 01732 454108 or visit www.ageuk.org.uk/bigknit
Once your little knitted creations are ready, drop them off or post them to:
Liz Bew
Age UK Sevenoaks and Tonbridge
The Old Meeting House
St John's Road
Sevenoaks
TN13 3LR
Thes knitting and crochet patterns are available to download, to find out more visit: www.ageuk.org.uk/bigknit or www.thebigknit.co.uk.