Find out here about activities and events taking place at Age UK Sevenoaks and Tonbridge.
Coronavirus information - click on the links below for information
Click here for Coronavirus health information
Click here for Coronavirus information pack - practical help and local services in Sevenoaks and Tonbridge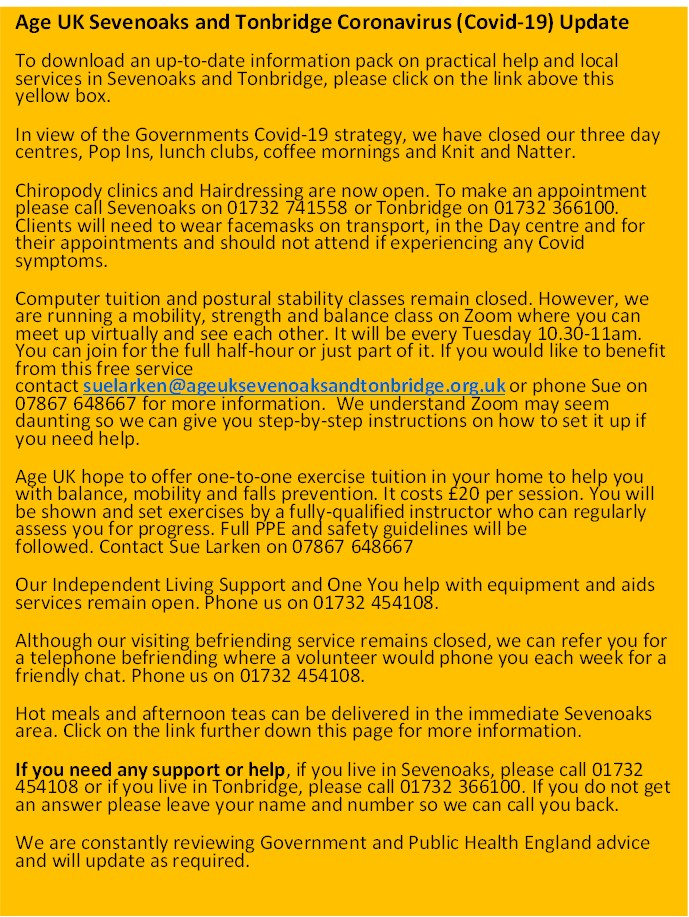 New Meal Service
During the Coronavirus pandemic, we are offering a hot delivery meal service. We can deliver a 2 course hot lunch every weekday (Monday to Friday) to anyone over 50 who lives in Dunton Green, Kemsing, Otford, Riverhead, Seal or Sevenoaks.
Click here for New Meal service information.
Keep fit with Pop-in Sue!
While our Pop-in tea/coffee mornings are cancelled Sue Larken, our health and well being coordinator, is making videos to help you keep fit and mobile. Click on the links below to view the videos. Click here for information on weekly online classes.
Strength, mobility and falls prevention exercises (1).
Strength, mobility and falls prevention exercises (2).
Strength, mobility and falls prevention exercises (3)
Strength, mobility and falls prevention exercises (4)
Strength, mobility and falls prevention exercises (5)
Silver Sunday exercise video - chair based
Silver Sunday exercise video - standing
Silver Sunday exercise video - music
Exercises for Maintaining Balance
Wool donations needed
Our Knit and Natter group, which normally meets regularly to knit for charity, are running out of wool during these difficult times. Donations will be very welcome and can be dropped off at the Old Meeting House, St John's Road, Sevenoaks,TN13 3LR
Please donate to support our vital services
Age UK Sevenoaks and Tonbridge needs your help to support older people during the Coronavirus pandemic. With the Government's recommendations for social distancing for people over 70, our services have never been more in demand.
We're working hard to ensure our vital services can continue to safely help the older people who are reaching out to us during these deeply worrying times. We're determined to be there for older people who need our help and especially those who have no one else to turn to, but we desperately need your support. If you can, please help us by making a donation
Age UK Sevenoaks and Tonbridge would like to thank everyone who has given up their time or donated during the current pandemic. We are also grateful to all those trust funds and organisations who have supported us over the last few months. All of this has enabled us to continue to support the older people of Sevenoaks, Tonbridge and district during these difficult times.
Coronavirus Risk Assessment
Please click here for our generic risk assessment for Coronavirus. Service specific risk assessments are available on request.
Regular activities
Lunch clubs are great places for friends to regularly meet up or for people looking to meet new friends; everyone is welcome. You can spend a few hours catching up on news and sharing stories as well as enjoying a freshly cooked 2 course lunch followed by tea & coffee.

Many people are daunted by the thought of using modern technology. Whether a complete novice or more experienced we are here to help. At our computer learning centres we offer a wide range of one to one training in all aspects of computing.

Age UK Sevenoaks & Tonbridge operate three day care centres, each providing people in later life with the opportunity to meet new people, take part in a full range of recreational activities and receive a nutritional hot meal.
Are you alone, no-one to see? Why not pop-in to one of our regular tea and coffee mornings in Penshurst, Chiddingstone, Chiddingstone Causeway, Cowden, Dunton Green, Fordcombe and Leigh.

Come along, we knit for Charity or you can bring your own knitting or crochet if you would rather do that. There is always a cup of tea or coffee and biscuits or cake to be had.

Come along to meet our team and have a chat at the Edenbridge Day Centre on 6th February 2020 from 10:30 to 12:30.
Fundraisers
Grab your needles and your brightest yarn and get knitting for Age UK Sevenoaks and Tonbridge

Tonbridge Christmas Fayre

The Tonbridge Christmas Fayre was held on 17th November 2018. We raised £863 on the day with a top up donation from the Barclays Bank Employees fund raising scheme. Thank you to all of you who helped on the day, contributed in any way and to those who visited us on the day. We will make sure that all of this money goes to help older people in our area.