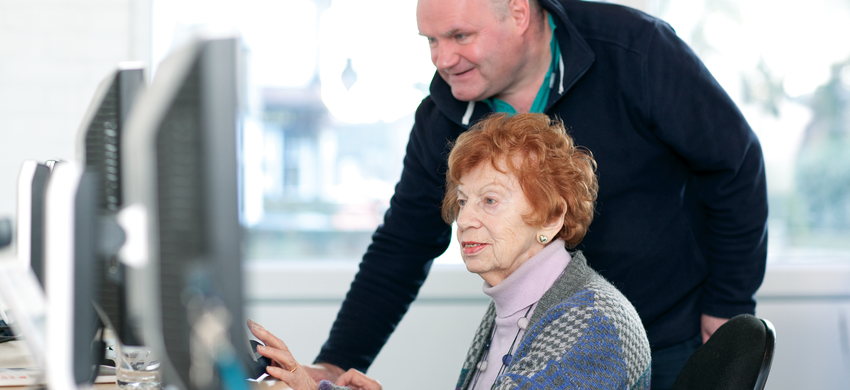 Age UK Sevenoaks and Tonbridge relies on volunteers to help us offer vital services in the local community.
Would you like to lend a hand?
We are looking for volunteers so please get in touch.
There are a wide range of volunteering opportunities on offer. Your role as a volunteer can be as varied or as simple as you wish. We appreciate that abilities, experience and interests have a role to play, and welcome volunteers from all walks of life. Each role is of equal importance to the eventual outcome for which we all strive.
To find out more about what we do you can read through our list of role descriptions below for our main opportunities and when you've got a good sense of what you might be interested in you can contact the Sevenoaks office by email or phone on 01732 454108 to talk about the area in which you'd like to volunteer. Please be aware that will not have vacancies in all roles.
Please click here to see a video of comments from some of our volunteers at Age UK.
We have some interesting volunteering roles that we need to fill. These include Information and Advice volunteers, Day Centre volunteers, Befriending volunteers, a Pop-in cafe volunteer and more. Please see the role descriptions below.
Click on the role heading for further information
Lend a hand at fundraising events or help out in the office with admin support for fundraising.

If you cannot see anything suitable, you may wish to consider other organisations that help older people in the area
We are looking for volunteers, over 18, who are interested in older people and maybe in disability and social care issues. You should be good at listening as well as talking to other people.
We require references and a criminal record check (DBS); we can organise this for you.
Please click here for Privacy policy for staff, trustees and role holders.
Volunteering at Ightham Mote
Age UK Sevenoaks and Tonbridge are are working in partnership with the National Trust at Ightham Mote to promote volunteering in our organisations. Volunteering is great fun and an excellent way to meet people, make new friends, learn new skills and enjoy life. Click on the link below for further information on volunteering at Ightham Mote.