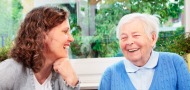 Visiting people once a week for a cup of tea and a chat, we ask that you can commit to regular weekly visits all year round but if you can only offer a term time, or fortnightly commitment please talk to us as we may still be able to make a befriending match for you.
Ideally you will have access to a car and we can re-imburse your travel expenses, but if you would prefer to visit someone who is in walking distance to your home we will try to arrange this too.
It can be flexible but many older people prefer to have visits during daylight hours so you should be available during the day. We do not do evening visits.
You will receive training and support from our office will be available at the end of the phone if there are any issues you wish to raise if it is during office hours during the week.
We run the Befriending service in both the Sevenoaks and Tonbridge area and would be happy to meet with anyone who is considering a volunteering role to talk about the service. Please contact the Sevenoaks office on 01732 454108 or the Tonbridge office on 01732 366100 for further information.