Information & advice volunteer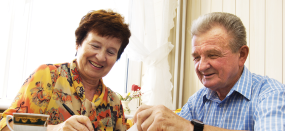 We have vacancies for volunteers who visit older people, many of whom are housebound. Your main role would be to help them and their families complete forms and to give them any other information about services that may help them.
You need to be able to give up one day a week (or more if you wish). The morning will be spent visiting an older person in their own home and helping them (and maybe their family) to fill in forms. Usually these are for health and disability benefits. Sometimes it will be helping them apply for housing benefit, council tax reduction, pension credit or a disabled parking permit or checking that they are getting all the benefits that they are eligible for. The afternoon will be spent back in the office writing it up and completing accompanying paperwork.
This is a challenging role but full training will be provided. We are looking for people who like face-to-face contact (it is not phone or email-based). You must have empathy for people's situations. You must be willing to listen and give people time but not get bogged down. Therefore you must be able to manage your time effectively.
You need to be comfortable with filling in hard-copy forms and you will need to write them up. You need to be able to spell and have good grammar. You need to be thorough but also sympathetic.
Ideally you need to be able to drive and have access to a car as many people live in surrounding villages or countryside. However this may be negotiable. Travel expenses can be re-imbursed (we have a mileage rate). Could be based in Sevenoaks or Tonbridge.
Please contact the Sevenoaks office by email or phone on 01732 454108.