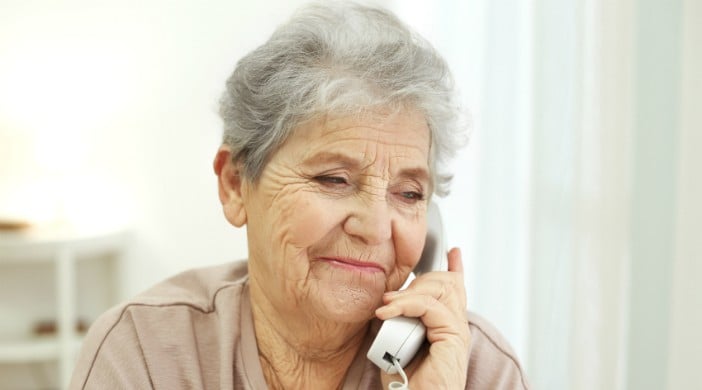 "Without my weekly calls I would be a lost soul"
"My befriender brings a ray of sunshine to my life"
Befriending clients
In Suffolk, 1 in 10 people aged 60 or over, say that they are often or always lonely.
Our befriending services offer a lifeline to many older people, who without this, may not speak to anyone for days, weeks or even months.
We offer a free telephone befriending service throughout the whole of Suffolk, which connects older people with volunteers, who telephone them on a regular basis for a friendly chat. The befriender can also act as a link to help the befriending client to access a wide range of information, advice and other services.
We also offer a visiting befriending service in Kesgrave, Rushmere St Andrew, Felixstowe area, Shotley Peninsula and Ipswich, subject to volunteer availability.
Why is befriending so important?
Over 2 million people over the age of 75 live alone, with over 200,000 saying they go a month without speaking to a friend or relative.
It can lead to ill health, depression, mental health issues, alcoholism and malnutrition.
Overall a poorer quality of life.
How does it work?
Our befriending service is open to older people aged 60 or over who considers themselves to be lonely or isolated (unfortunately we cannot provide a service to older people with a diagnosis of dementia or complex mental health needs).
All our volunteers are carefully recruited with appropriate checks made. Once a referral is received, one of our befriending co-ordinators will be in touch to discuss the service and find out a bit more about you, such as your interests and hobbies. They will then look to find a suitable volunteer to match you with. The same volunteer will contact you each week, on the same day at the same time.
Calls usually last for around 30 mins and visits for one hour, purely for a friendly chat.
We always check to see if the 'match' is working for both you and the volunteer in the early stages, then contact you at regular intervals to see if all is still going well. We can also help to refer you onto other Age UK Suffolk services.
How can I be referred to the telephone befriending scheme?
You can call and refer yourself.
A relative or friend can call on your behalf.
A health or social work professional can call for you.
If you would like more information or to be referred to the befriending service, please call one of our Co-ordinators using the details below.
Contact our Befriending Team
Phone: 01473 353061/353051
Email: befriending@ageuksuffolk.org
Other Befriending Schemes
We also hold information on other organisations and groups that offer befriending or visiting services across the County, and we may be able to put you in contact with a local scheme if that is your preference.
Frequently Asked Questions
If my volunteer goes away will someone else call me?
Yes, our befriending office are happy to call out clients and fill in when volunteers are unable to make the weekly call.
Can I meet up with my befriender and go out?
No, the befriending service offered by Age UK Suffolk is purely a chat in your home with your volunteer. Our insurance does not cover for outings. Should you and your volunteer decide after a period of time getting to know each other you would both like to meet up and go out together please do speak to the befriending office. They will speak to both yourself and your volunteer and see if you are ready to continue as friends without the boundaries of befriending with Age UK Suffolk
Is there a cost to the befriending service?
No. The volunteers give their time and enjoying their conversations with you is reward enough for them. We ask that no gifts are given to the volunteers. Should you wish to send them a birthday card please do contact the befriending office.
How do you match clients and volunteers?
Not only do we look at availability but interests and background. We find common ground or something you both love to be able to start a conversation and let the friendship build from there. The befriending office will then contact you after your first call, your first month and then every 3 months to check that you are happy.
Can my befriender pick me up some shopping?
No. The volunteers are there for a chat only. We do have a Home Service team which is a paid service which would be able to assist with this.
Why do you need my emergency contact details?
Whilst we don't want to bother you or your family we do like to ensure that you are okay, should you miss a call.
Can you spare some time to volunteer and befriend an older person?
We are always looking for more people to join our team of volunteers.
Contact: The Volunteer Office
Phone: 01473 298684
Email: volunteer@ageuksuffolk.org