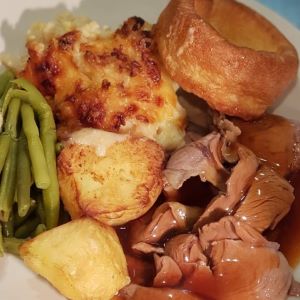 Freshly cooked, nutritionally balanced meals. Prepared on site at Age UK Ashford.
Hot meals at our centre
Meals can be booked at the centre by calling 01233 668765, by 10.30am lastest on the day you would like the meal.
Home meal delivery
Our home meal delivery service is availble, providing a hot, freshly prepared, two course meal delivered to your door for lunch.
Our meals on wheels ...
Two course, freshly prepared meals are available to order to your door 5 days a week, offering a varied menu, that changes weekly including all the traditional favourites. Meals are delivered hot and ready for you to eat. Menus are available from the centre, they can also be sent out weekly and are also regularly updated on our website.
Offering more than just a meal...
Our home delivery meal service also provides a wellness check by our DBS checked team. We will ensure you are safe and well when delivering your meal.
Who can order?
The meal delivery service is available for all who need it within our local community. Meal can be delivered for long or short term support. Meals can be booked in advance, or on the day before 10.30am and are delivered to those living in the Ashford area.
How do I order?
Contact the centre on 01233 668765 before 10.30am on the day you would like your meal. Feel free to order in advance. Your meal will be delivered by our drivers between 12.00pm-2.00pm. Payment can be made monthly once you receive your invoice over the phone by card, you can also pay by bacs or send in a cheque, we also accept cash.