Do you need help with household repairs? We have a team of handypersons who can tackle most DIY tasks, with no job too small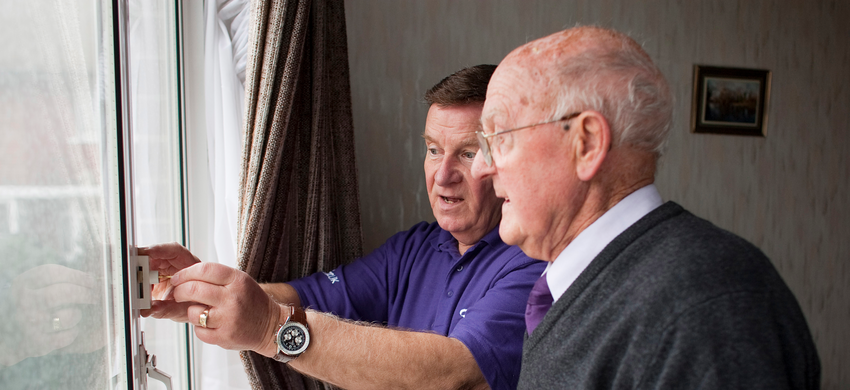 Our At Home Handypersons can help with many jobs around the home such as fitting grab rails or stair rails, fitting shelves, installing key safes, painting & decorating and more.
There is a charge for this service (however income received from our paid-for services contribute to funding our free charitable services, including our Information & Advice and Befriending services, helping to support local older people across North Worcestershire).
Who can use the service?
This service is available to anyone living within the Bromsgrove, Redditch and Wyre Forest area.
Our staff will need to ask some detailed questions about you and your home in order to enable us to make an accurate assessment of how best we can help you, but they will ensure that everything you tell them will be kept in confidence and they will only act in your best interests and with your agreement.
What can we do?
Our handypersons can:
Supply and fit key safes Fit door chains, viewer or security locks and bolts
Fit grab rails and stair rails to reduce the risk of falls
Replace glass window panes and re-putty windows
Refix a loose or damaged rainwater pipe
Clear a blocked soakaway
Adjust or ease a door to open properly
Repair or rehang a garden gate
Repair or replace broken paving or steps (2 maximum)
Repair leaking or dripping taps
Check and bleed radiators
Refix loose handrails or fit secondary stair rails
Hang pictures and towel rails
Create a half step
Refix loose floorboards or carpet
Fit or re-hang curtains and curtain rails
Renew fuses or replace light bulbs Build flat-pack furniture
and much, much more to help you to carry on living independently in your own home in greater comfort, safety and security.
Please note that our handypersons can't:
Work above step ladder height
Work with gas appliances
Tackle major electrical work
Tackle major plumbing work
Undertake large scale decorating jobs or gardening
How much does the service cost?
The standard charge for Handyperson visits is £24.00 per hour (however rates are available for 'Quick Fixes' and longer jobs, in addition to packages for the supply and fitting of Key Safes and Grab Rails – please speak to our team for details). We will always advise you of the likely cost (including materials) before commencing any work
We will send you an invoice for the work you have received – to help make things easier, invoices can now be paid by direct debit, by card over the telephone or by direct transfer to our bank account
Major work
If you need more major work on your home, for example repairs to walls, roof or gutters, major plumbing or electrical work, or repairs to gas appliances, then we can put you in touch with reliable contractors on our Local Traders Register who will give you value for money.
Financial assistance
If you think that you might qualify for a grant, an additional benefit or some other form of financial assistance then we can help you to find out what help is available and to complete the necessary forms.
Our advice is always free and without obligation.
Find out more about our Handyperson Service
Contact us on 01527 570490 or email: enquiries@ageukbrwf.org.uk - We are here to help