Age UK Bromsgrove, Redditch & Wyre Forest offers a free and confidential information and advice service for older people, their families and carers.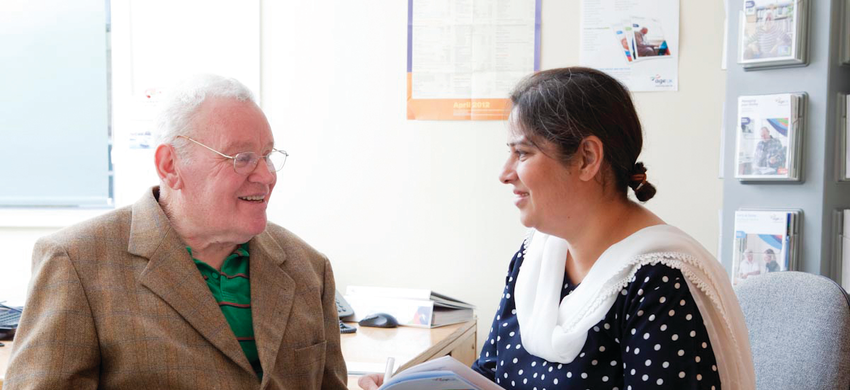 How to access the service
You can access our information and advice service in a number of ways:
By phone: 01527 570490
By email: enquiries@ageukbrwf.org.uk
At our Information and Advice Centre in Bromsgrove
We can also arange to visit you at Home.
Topics we cover:
Our advisers and volunteers are trained to help you on a variety of topics, including:
Social care - such as finding a care home or getting some help at home, and how it's funded.
Your income - including free benefits checks, help with applying for benefits and pension advice.
Your home - information on staying warm at home, home adapatations and how to prevent falls.
Support for carers - making sure people are aware of the many sources of emotional, practical and financial support that are available.
Anything else….if we don't know the answer, we can signpost you to someone that will.
Our Information and Advice Centres/ Teams
Members of our Information and Advice Team work across Bromsgrove and Redditch and Wyre Forest
Bromsgrove
Our Bromsgrove Information and Advice Centre is based at our Office in Windsor Street. The service is open Monday-Friday, 10am-1pm. We offer daily drop-in sessions for short enquiries and offer booked appointments for more complex issues.
Redditch
For enquiries, or to arrange a Home Visit for Information and Advice in the Redditch District, please call 01527 570490. The Team also operate an appointment-based Outreach Service every Thursday (9.30am-2.30pm) at Redditch Library (Market Place, B98 8AR) - please call 01527 570490 to book an appointment.
Wyre Forest
For enquiries, or to arrange a Home Visit for Information and Advice in the Wyre Forest area, please call 01527 570490.
Free information guides and Local Traders Register
Age UK produces free information guides and factsheets on a wide range of topics, including home adaptations, dementia, and advice for carers. You can find a complete list of guides and factsheets on the Age UK national website.

We maintain a register of reputable local traders, including electricians, plumbers, mobile hairdressers and many others. All of the traders are recommended by older people, then checked and monitored by us.
We are also part of the Worcestershire Advice Network, a partnership of local agencies here to help you with everyday problems such as benefits, housing and debt. For more details of the network, please click on Worcestershire Advice Network
Seeking Information and Advice?
Call us on 01527 570490 or email: enquiries@ageukbrwf.org.uk - We are here to help.