Coronavirus – We are still here to help
Our team are continuing to operate a Telephone Information and Advice service so please contact us on 01527 570490
Age UK Bromsgrove, Redditch & Wyre Forest offers a free and confidential information and advice service for older people, their families and carers.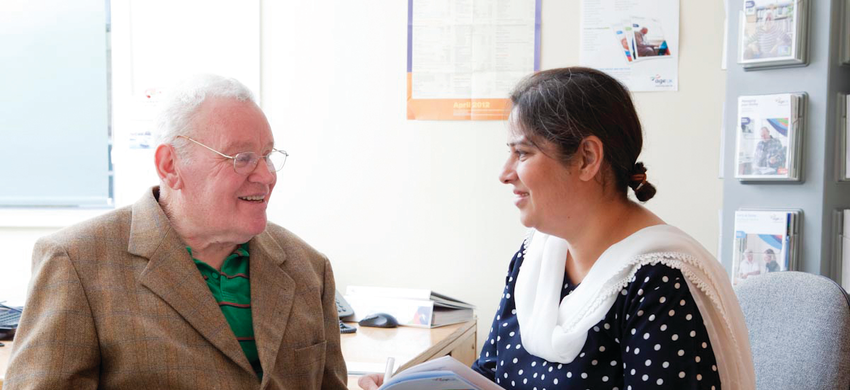 Our advisers and volunteers are trained to help you on a variety of topics, including:
Welfare benefits advice for those over retirement age, including identifying and calculating benefit entitlement and assistance to complete claim forms
Helping people to identify the care and support they need, including help accessing Social Services and advice on how to pay for care and support
Advising on housing issues, including help with maintaining a property and advice on the different types of housing for older people who need more support or want to move nearer to family or friends
Advising on the services, support, groups, activities and concessions available locally
Advising those who are finding it hard to make ends meet or are struggling to pay their bills
Helping people to make complaints or challenge decisions about welfare benefits, social services, health services and energy providers
How to access the service
You can access our information and advice service in a number of ways:
By Phone: 01527 570490
By Email: enquiries@ageukbrwf.org.uk
At our Information and Advice Centre in Bromsgrove
Outreach appointments in Redditch and Wyre Forest
We can also arrange to visit you at Home
Our Information and Advice Centres/ Teams
Members of our Information and Advice Team work across Bromsgrove and Redditch and Wyre Forest
Bromsgrove
Our Bromsgrove Information and Advice Centre is based at our Office in Windsor Street. Please note that our daily drop-in service is currently suspended but we are offering booked appointments. Please call 01527 570490.
Redditch
For enquiries, or to arrange a Home Visit for Information and Advice in the Redditch District, please call 01527 570490. Please note that our Outreach Service at Redditch Library is currently suspended.
Wyre Forest
For enquiries, or to arrange a Home Visit for Information and Advice in the Wyre Forest area, please call 01527 570490. Please note that our regular Outreach Service at Age UK BRWF Tulip Tree Centre is currently suspended.
Free information guides and Local Traders Register
Age UK produces free information guides and factsheets on a wide range of topics, including home adaptations, dementia, and advice for carers. You can find a complete list of guides and factsheets on the Age UK national website.

We maintain a register of reputable local traders, including electricians, plumbers, mobile hairdressers and many others. All of the traders are recommended by older people, then checked and monitored by us.
If you are a health/ social care professional or from a community or voluntary organisation, you can make a referral to our Information & Advice service via our Partner Portal
Seeking Information and Advice?
Call us on 01527 570490 or email: enquiries@ageukbrwf.org.uk - We are here to help.