Do you need a wheelchair on a short-term basis or for occasional use but do not want to purchase one?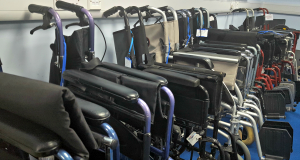 If you need a lightweight wheelchair for a short period to cover holidays or a return from hospital we have a small stock of wheelchairs available for short term loan.
These are available to loan for a short period of time and all we require is £7.50 per week and a refundable deposit of £50.00.



Find out more about our Wheelchair Service
Contact us on 01527 570490 or email: enquiries@ageukbrwf.org.uk - We are here to help