The Hands 2 Help Domestic & Companionship Service aims to support you to remain independent by providing assistance with daily tasks and practical help with things that are becoming more difficult to manage.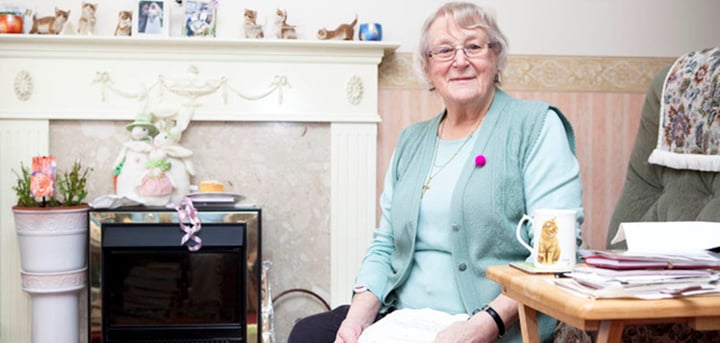 Age UK Faversham & Sittingbourne are now re –introducing our hands 2 help service. In order to reinstate the services the following has been completed:
Risk Management
In preparation for the resumption of the services we have carried out and written up a workplace risk assessment to include COVID-19 for Home Support i.e. cleaning tasks undertaken in client's homes.

• All staff have received Covid-19 training and updated infection control training.
• Staff have been issued with information packs with the following:
• Copy of the workplace risk assessment relating to the cleaning tasks undertaken in a client's home
• Standard operating procedure which includes the use and safe disposal of Personal Protective Equipment, Handwashing, Social distancing, cleaning.
• Health and Safety notice and Information leaflet - Five steps to safer working together.
What we're doing to keep you safe during COVID-19
At Age UK Faversham & Sittingbourne, we're committed to your safety and well-being at all times. During the COVID-19 crisis, we're working in a way that reduces the chance of you, our staff and volunteers getting infected with the virus, so you can expect some changes to the way we help you.
Staff and volunteers
• All of our team have had training on how to work safely and reduce the risk of spreading the virus.
• We've thought about what protective equipment we need to use to keep everyone safe. Customers will see staff using the following PPE equipment with things like masks, gloves, disposable aprons, shoe covers, face visors, staff are also supplied with antibacterial hand wash and paper towels as well as Alcohol hand gel.
• All of our customers have the same support worker visiting for each of their calls, the only exception would be if that person is on holiday or unwell then you will be notified and offered another support worker.
Before we visit
Our Support worker will call you or speak to you at the door and ask if you:
• Have the virus
• Have symptoms of the virus such as: high temperature, new persistent cough, loss of taste or smell.
• Have been told to "shield" yourself or you are someone who might be at more risk of getting the virus.
Then we'll know how we can best support you safely.
Visiting you in your home
When we visit you in your home we ask that you do not invite other visitors into your home during the duration of the call, we also ask that you remain in a different room from the support worker while they are there, and to open internal doors and windows for ventilation and to maintain a 2 meters distance where possible. Where customer equipment is being used such as hoovers, irons, mops etc. support workers will wipe the equipment down after use.
Paying for your service
Invoices are issued monthly and we encourage all of our customers to pay for their service by card, bacs payments or direct debit, however we understand that some of our customers do not have that facility, paying by cash is their only option. Support workers are issued with plastic bags to put any monies in, which is held in a cash tin for 72 hours before being handled.
When the service is available
Our services are available Mon – Fri (excluding bank holidays) from 9am – 5pm.
Let us know if we don't do what we say we will
If you think that we're not doing any of the things we've said above or if you're not happy with the way we're helping you, please call us immediately on 01795 542823 or 01795 532766 or email: beverley.spencer@ageukfs.org.uk
Hands 2 Help Domestic Service
Aims to support you to to remain independent by providing practical help with those daily tasks that you may find difficult to do on your own. Sometimes we need a little help to enable us to carry on doing the things in life that we need or want to do. Hands 2 Help Domestic is a flexible service that can help you live how you choose to.Our domestics can help with a wide variety of tasks including (but not limited to)
General Cleaning
We can provide one of our domestics to help with tasks such as vacuuming, dusting, cleaning the bathroom and kitchen, making beds and any other household cleaning task you want support with.
Hands 2 Help Companionship Service
This service is open to those who are 50 and over. We can help you live life to the full! Our aim is to deliver a flexible service by providing you with a suitable companion at home or out and about. If you want to be accompanied to a special event or day out then we can offer a bespoke service.
Getting Out and About
We can help you to get out and about to wherever you want to go such as
Social visits to see friends or relatives
Special occasions such as weddings and reunions
A football match, the theatre or a place of interest
Shopping trips, food preparation and cooking
We can look after a relative/loved one while you are out
Hands 2 Help Domestic Service Charge
9am - 5pm Mon-Fri (excluding Bank Holidays)
Price £18.00 per hour plus mileage
We will need to charge mileage for clients who live more than 1 mile from our Faversham and Sittingbourne centres. Terms and conditions apply.
Hands 2 Help Companionship Service Charge - Supported Escort Trips
Price £20.00 per hour plus mileage
We will need to charge mileage for clients who live more than 1 mile from our Faversham or Sittingbourne centres. Terms and conditions apply.
We have use of a disabled access vehicle & wheelchairs (Booking in advance is recommended). Age UK Faversham and Sittingbourne have a comprehensive recruitment process including Disclosures an Barring checks.
Tel: 01795 542823 or 01795 532766
email: beverley.spencer@ageukfs.org.uk