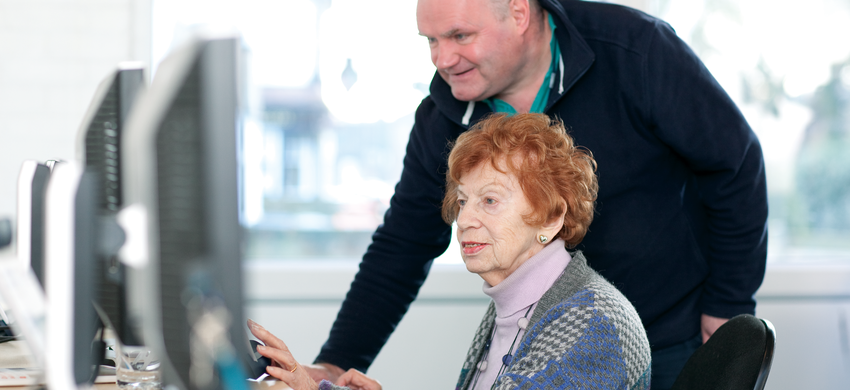 Age UK Hereford & Localities relies on volunteers to help us offer vital services in the local community. Would you like to lend a hand?
Telephone us on 0333 0066 299, email us at contact@ageukhl.org or call in at one of our offices to request a volunteer application form.
Why volunteer?
Volunteering is one of the most rewarding things you can do. Age UK Hereford & Localities' enthusiastic and dedicated volunteers help us to provide a range of services to support older people, their families and carers.
Who can volunteer?
Almost anyone can be a volunteer. We provide a DBS check and take up references for all of our volunteers. At the moment we are particularly keen to find volunteers to help us to provide regular gardening or shopping for some of our clients, and to provide some cover for telephone reception.
How much time do I need to give?
It depends on the volunteer role you are interested in. Some people give an hour a week, other people do more. If you have some time to spare, from an hour or two a month to a couple of mornings a week, we would love to hear from you.
Current Opportunities
We currently need more volunteers to support our work in the Ledbury area. By volunteering your life experiences, work skills, talents and abilities can help older people enjoy later life. Volunteering is rewarding and provides the opportunity for you to give something back to your community.
Volunteering Opportunities:
Admin Volunteer: We are looking for someone with previous admin experience to facilitate the smooth running of our Ledbury Office (based in the Master's House) on Thursdays from 9.30 am to 2.00 pm. Tasks will include:
· Covering the reception desk, meeting and greeting clients
· Updating spreadsheets and databases in order to keep records up to date
· Contacting clients to get feedback about our services, then recording and collating the data
· Typing letters
· Counting and recording cash ready for banking
· Answering the telephone and ensuring that messages are passed to the relevant member of staff or volunteer.
Reaching You Volunteer: We need more volunteers to support our Reaching You Service. The tasks involved are varied and may include:
· Regular shopping
· Small DIY jobs
· Light gardening
· Home visiting/befriending.
If you would like to know more about these volunteering opportunities and the services we offer please contact us:
Telephone: 0333 0066 299 Email: contact@ageukhl.org