Page updated 24/02/2021 information correct at time of publication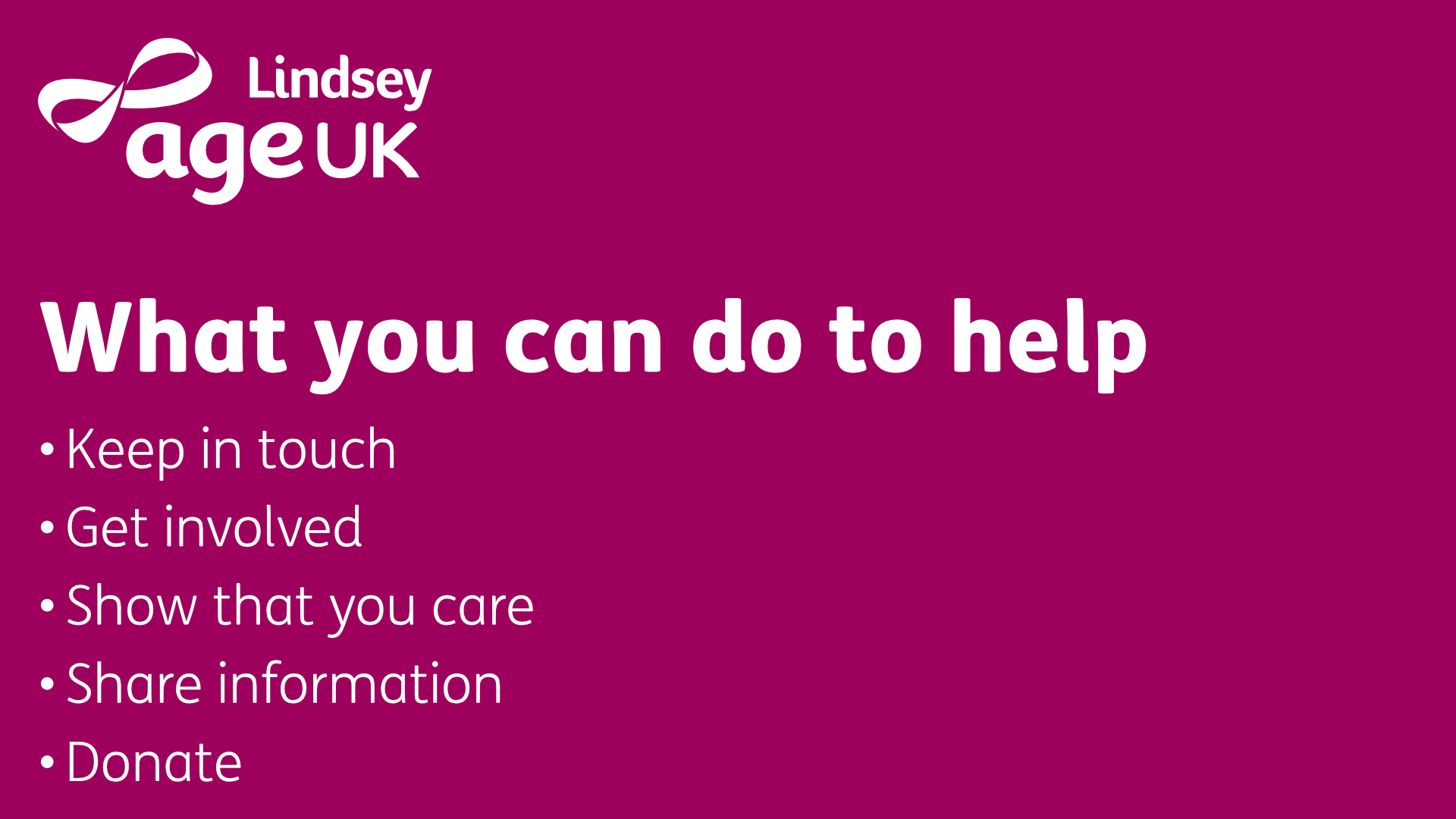 During the ongoing coronavirus pandemic, we can all make a difference to the older, more vulnerable members of our community. There are a number of ways you can still help, and make your input count.
---
Keep in touch
Is there an older relative or neighbour that you haven't spoken to in some time? Why not pick up the phone for a chat. You may be the only person that they have spoken to all day, and you may also be able to offer practical support if they are self-isolating or still shielding.
---
Get involved
Community groups are still providing vital support for our most vulnerable neighbours. There are a number of ways that you can find out which groups are looking for volunteers in your area:
Search online e.g. "coronavirus community group in... (add in the name of your nearest town)"
Check out community groups on Facebook
Visit the Lincolnshire County Council website for a list of support agencies needing volunteers
Join L-CAT, the Lincolnshire Community Assistance Team, whose volunteers have been providing support to vulnerable people across the county throughout the pandemic
Neighbourly volunteering is a great way to help those living closest to you and who may be in need of immediate support. Age UK has produced a short video and postcard to guide you in how best to support your neighbours and ensure that they are receiving the help that they need. And to ensure the safety and wellfare of both you, and the people you are helping, there are six leaflets for you to download and read, covering topics such as scam awareness, transporting food safely, volunteering alone and maintaining personal safety. We strongly recommend that you read the guides before you start volunteering.
Volunteering for Age UK Lindsey If you've been inspired to volunteer on a regular basis and would like to show your support for older people in your community, check out our volunteering opportunities - we'd love to hear from you.
Support your neighbours
Download and print our neighbourly volunteering postcard, and make a real difference to the people in your community
---
Show you care
Sending handwritten letters and homemade cards and gifts is a great way to show someone that you care. Get the whole family involved and get creative!
---
Share information
Age UK Lindsey has been putting together a wealth of information for everyone to use during the coronavirus outbreak. We only gather information from trusted sources, including:
The NHS
The UK Government
Public Health England
Local Government
Service partners
Help us to spread the word, not the virus, by sharing our social media posts on Facebook and Twitter, and using our coronavirus information pages to keep older friends and relatives safe and well. The information that we provide is being updated regularly, and provides plenty of help and advice to support you through the crisis.
Further information and help from Age UK Lindsey
---
Donate
We need your help to ensure that we can continue to provide services to older people in your community, not just through the crisis, but for many years to come.
You can suport us in many ways, but it need not cost you any money! Check out our donation page for more information.
---