Win a pair of tickets to Rochester Castle's UB40 concert this summer for just £10!
Published on 23 July 2021 11:08 AM

We are very excited to announce that we have 4 pairs of tickets to give away in our exclusive raffle this summer to the UB40 concert at Rochester Castle on Saturday 18th September!
If you missed out on tickets, this is your chance to get them at an eighth of the price!
A huge thank you to
Rochester Castle Concerts
for this amazing prize. Your support means so much, not just to us, but to all of the older people who we help every day.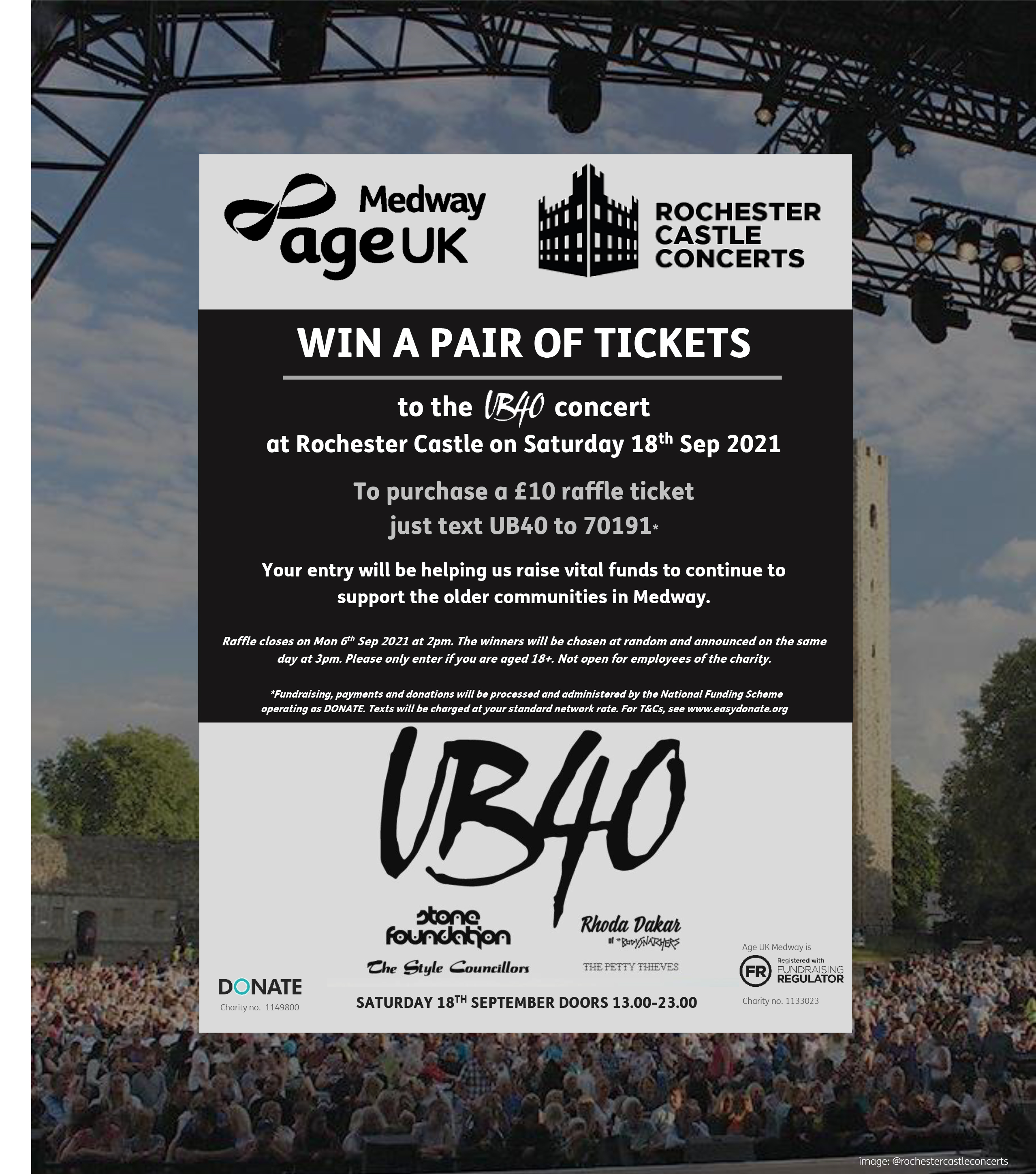 To purchase a £10 ticket (see rules below) text UB40 to 70191.
The Age UK Medway UB40 Castle Concert Raffle is licensed by Medway Council pursuant to the Gambling Commission under the Gambling Act 2005.
Promoter: Age UK Medway, The Admiral's Offices, Main Gate Road, Historic Dockyard, Chatham, Medway ME4 4TZ
Responsible Person: John Norley
All profits raised from the Raffle will go towards the work of Age UK Medway.
Registered Charity Number: 1133023
Payment Provider: The National Funding Scheme (NFS) is a registered charity (1149800) which has developed a national tool of mobile giving – DONATETM
The Promoter is registered as a Non-Commercial Society as defined by the Gambling Commission with Medway Council – Registration Number 21/00520/MGLOT.
The NFS operates as the Payment Provider using DONATETM and not as an External Lottery Manager.
By entering the Raffle, you agree to be bound by these Terms and Conditions. Any Raffle entry and participation instructions form part of these Terms and Conditions. Any entries not complying with these Terms and Conditions will not be valid.
This Raffle is open only to individuals aged 18 years or over who live in England or Wales. Any person who has entered the Raffle and who is found to be under 18 years of age will automatically forfeit any prize. The Promoter reserves the right to require proof of identity and age.
The Raffle is not open to employees of the Promoter, or any company involved with running the Raffle.
The cost of each entry into the Raffle is £10 per text. The phone number is used as the ticket number and therefore limited to one text per phone and conforming to a single entry at that price.
Text charges are as set by your phone provider.
Gift Aid is not available for a text raffle.
All donations via text on a phone are added to the donor's phone-bill, meaning no credit or debit card details are required for this payment method. This is PCI-compliant. (www.pcisecuritystandards.org) and no credit/debit card details are ever held by the NFS.
The closing date for the Raffle is Mon 6th Sep at 2:00pm BST. All times in these terms and conditions are BST.
The Prize winners will be chosen by randomising the database of text numbers provided by the Payment Provider at 2:00pm on Mon 6th Sep 2021 with the top four numbers winning the prizes in order.
Winners will be notified by text or phone immediately after the draw.
The prizes will be sent to the Winners by post or hand delivery, who will be required to provide a mailing address, photograph (membership prize) and proof of identity/age.
The Payment Provider's Privacy Policy for donors' personal data can be found here: http://www.nationalfundingscheme.org/privacy-policy.
The Promoter reserves the right to reject your entry and/or award any prize to an alternative winner if the Promoter has grounds to believe that you have breached any of these Terms and Conditions, acted fraudulently or illegally, or on other reasonable grounds and the Promoter shall have no liability to you for any loss or damage arising from the Promoter exercising such rights.
If:

a prize cannot be delivered or the winner is not contactable (as applicable) using the details provided to the Promoter; or
after 3 days of the date of the draw, this prize will be forfeited and awarded to the next number at random.

The Promoter reserves the right to modify, cancel, terminate or suspend the Raffle in whole or in part in the Promoter's sole discretion.
Subject to paragraph 16, the Promoter shall not be liable for:

the Promoter's failure or inability to contact you and/or award any prize due to any errors, omissions or inaccuracies in the contact details you have provided or your failure to update these if they change;
loss or damage incurred by you in connection with your participation in the Raffle or your use of any prize; or
any failure or delay beyond the Promoter's reasonable control.

The Promoter may amend these terms and conditions at any time, but will notify you of significant changes before these come into effect.
The Promoter is committed to operating the Raffle in a socially responsible way. If you or a family member feel that you are experiencing problems with gambling, you can seek advice and support from GambleAware via their website at www.gambleaware.co.uk or from the National Gambling Helpline on 0808 8020 133.
If you have any queries about the Raffle please contact fundraising@ageukmedway.org.uk