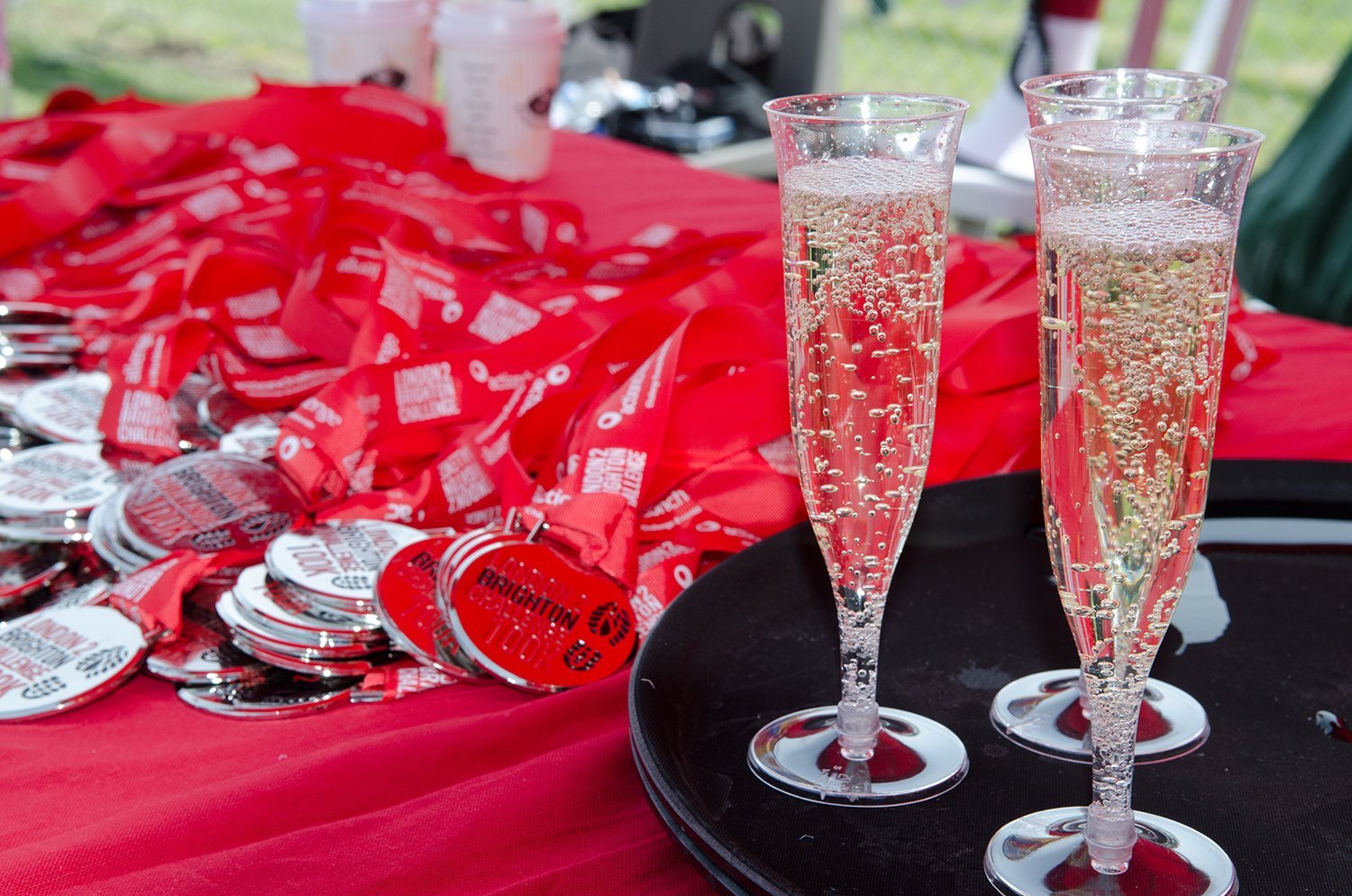 Are you a regular walker and new to endurance events? Perhaps a seasoned trekker looking for testing adventures? Or even a marathon runner wanting to 'up' your distance?
Whether it's along magnificent coastal scenery, or in stunning open countryside, there's an Ultra Challenge for you. Walk, Jog or Run at YOUR pace, along with 30,000 others of all ages and experience, on the Ultra Challenge Series event of your choice.
It will be rewarding, fun, and absolutely achievable with your resolve and determination alongside first class support, all whilst raising funds to support our vital work at Age UK Medway!
About the Ultra Challenge Series
The Ultra Challenge Series are a selection of endurance events in 2022, located in the most idyllic spots around England. Take a stroll or jog along magnificent coastal scenery, or push yourself to run through stunning open countryside. Decide your own finish line - 25km, 50km or 100km. It's Your Challenge - Your Way!
What's included and what support do I recieve?
You are supported from the minute you sign up to your challenge, to after you've crossed the finish line! Included in many of the challenges are:
The option to take part on your own or as part of a team
Rest stops with free snacks & drinks and toilets
Doctors, Paramedics, First Aiders, Podiatrists and Masseurs at rest stops
Pre-event training and support
Full access to the Ultra Challenge app which is packed with information and guidance
The option to do a full, half or quarter marathon
The option to include a camping package
Access to 24 hour mobile Emergency Medical Teams
A glass of bubbly, a t-shirt and a medal waiting for you at the finish line!
Sign Up and Fundraising Options
There are three ways of funding your Ultra Challenge:
Charity Sponsorship – you pay a small registration fee, do lots of fundraising and Ultra Challenge cover the cost of your event place!
Mixed Funding – pay half of the event place cost yourself, fundraise a bit less and Ultra Challenge pay the balance of the event place cost.
Self Fund – you pay the full cost of the event place - fundraise whatever you want, with no set target or deadline, and there's no cost at all to Age UK Medway!
For more information or some help understanding the different funding options, select the event you are interested in and click 'Find out more' to visit the individual event pages.
Alternatively, you email us or call us on 01634 578085. Don't forget to download our Fundraising Pack (at the end of this page) once you've selected your challenge!

Ultra Challenge Event Calendar:

April / May 2022
From our Windsor Racecourse base camp 1,500 adventurers will head out on looped routes through the Great Park with fantastic views of the Castle, on to Runnymede, along the Thames Path, taking in some wonderful countryside along the way - including Easter surprises!

Full (50km) or Half (25km) Challenge options available to Walk, Run or Jog.

Great challenges need great settings, and none are better than the Isle of Wight's coastal path, along the spectacular southern cliffs, past the iconic Needles and up to historic Cowes at the half-way stop. For the Full Challenge, it's then on to the historic Ventnor, for a full island loop.

Full (100km), Half (2km) and Quarter (25km) Ultra options available to Walk, Run or Jog.
Challenge yourself at the spectacular World Heritage Site, the Jurassic Coast. Starting from Corfe Castle, the route heads past Durdle Door, with ups and downs to West Bay's famous cliffs (well known as the location of the BBC's Broadchurch) before the finish line at Bridport.

Full (100km), Half (50km), or Quarter (25km) Challenges availble to Walk, Run or Jog.

Take on a classic capital to coast route over the Bank Holiday weekend. Richmond-Upon-Thames is the start, and it's over the North Downs with wonderful Surrey & Sussex countryside to the half way point at Turners Hill. The full 100 km route then heads over the South Downs before the welcome sight of the Brighton coastline comes in to view.

Full (100km), Half (50km) and Quarter (25k) Challenges available to Walk, Jog or Run.
June 2022
Take on England's finest countryside at your pace. Our Challenge base-camp is in Kendal, and from there it's a 100km anticlockwise loop taking in a couple of tough hills, Garburn Pass, Ambleside, a half way point by Lake Windermere, forests, and nature reserves – with some stunning views en route – before a huge welcome and celebration back at Base Camp after a momentous journey.

Full (100km), Half (50km) and Quarter (25km) Challenges available to Walk, Jog or Run.

Starting at our base camp in Cirencester, Full Challengers will experience a looped route through the heart of the Cotswolds. There are rolling hills, villages, the magical Cotswold Way, footpaths & trails, with some fabulous views en route – and a few tough hills in between!

Full (100km), Half (50km) and Quarter (25km) Challenges available to Walk, Jog or Run.
July 2022
Heading off from the base camp set up in the idyllic Bakewell, the Full Peak District challenge takes a tough and varied figure of 8 route through Derbyshire's finest scenery and Peaks. Join 2,000 adventurers in this gem in the Heart of England for a summer to remember.

Full (100km), Half (50km) or Quarter (25km) Challenges available to Walk, Jog or Run.

Take on the Yorkshire Challenge in the beautiful Nidderdale area, on the south east edge of the Yorkshire Dales. Heading off from the base camp in Pateley Bridge, the full 100km route is a varied figure of 8 style route which takes in the famous Nidderdale Way, Ripley Castle, and Gouthwaite Reservoir.

Full (100km), Half (50km) and Quarter (25km) Challenges available to Walk, Jog or Run.
August / September 2022
The Coast 2 Coast Challenge covers some of the stunning Coastal Path, which officially starts in Minehead, on a looped route starting from the impressive Dunster Castle, travelling up and over the rolling hills of Exmoor and taking in some magnificent views.

Full (100km), Half (50km) or Quarter (25km) Challenges available to Walk, Jog or Run.

An Eastbourne start, up on to Beachy Head, over the magnificent Seven Sisters, and along the famous South Downs Way National Trail, with stunning views over the sea to a Brighton mid-point. Devil's Dyke, welcome rest stops, a few ups & downs all lie ahead before historic Arundel comes into view after an amazing 100km journey.

Full (100km), Half (50km) and Quarter (25km) Challenges available to Walk, Jog or Run.
September / October 2022
Take on the Thames Path Challenge following England's greatest river. Most will walk, many will jog, some will run, and all have special reasons to push themselves. Our full Thames Path Challenge 100km route heads from Putney Bridge past Hampton Court to Runnymede of Magna Carta fame at 50km, then on past wonderful historic scenery all the way to Henley.

Full (100km), Half (50km) or Quarter (25km) Challenges available to Walk, Jog or Run.

Join 2,000 trekkers to venture 25km across the Capital, taking in unrivalled views of the skyline from its best vantage points. Setting out from Putney Bridge, it's east towards the City, zig-zagging over the array of historic bridges - each with its own fascinating story - and a midpoint stop at Kennington Oval. 25km later, it's a finish line celebration in Southwark past the majestic Tower Bridge.

This is a 25km Challenge only, and is therefore great for walkers, people new to challenge events or someone who just wants a fun day out in one of the world's greatest cities!
Starting & finishing at our Base Camp in Henley-on-Thames, this 50km looped route covers some of the best of the Chilterns countryside, along historic trails and over rolling hills. Passing through nature reserves, forests, and a few hills with great views - it's a route with real variety, and some wonderful scenery; and it's all easily accessible from London.

Half (50km) and Quarter (25km) Challenges available to Walk, Jog or Run.

Why not treat yourself to a hair-raising hike around some of the City's scary streets and historic haunts? Choose your distance, gather your bravest guys & ghouls to make up a team – or go it alone if you dare and meet up with other chilling challengers. Dress to distress, and our creepy dungeon keepers at The Oval start & finish will meet, greet & shock.

Full (42km) and Half (21km) available to Walk, Jog or Run or select a 10km Walk for a shorter experience.
Next Steps
Chosen your Ultra Challenge and not sure what to do next?


1. Download our Fundraising Pack
2. Let us know! Email us or give us a call on 01634 578085.
3. Get inspired! Visit our Fundraising Ideas page for tips/examples on how to raise funds for your Ultra Challenge!