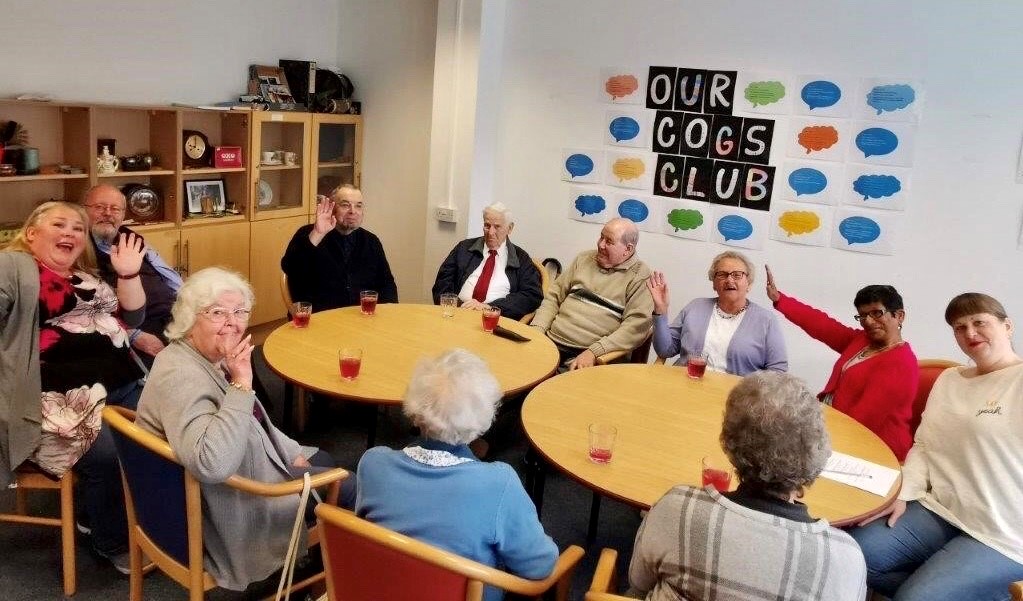 Being diagnosed with Dementia can be overwhelming. It will bring unplanned changes, it may mean redefining some priorities. It can stigmatise, it can label.
Age UK Medway's COGS Club offers a day of activity for people with early and mild stage Dementia, where Cognitive Stimulation Therapy is used to help keep their brains active, all whilst making new friends and new experiences.
About COGS Club
While there are many great initiatives which offer much needed emotional support to people living with dementia, Age UK Medway decided to focus on the brain itself. Founded by an Admiral Nurse, Jackie Tuppen, COGS Club offers a day of activity for people with early and mild stage dementia. Our facilitators are on hand to guide COGS members through the day, which aims to:
Keep the brain active
Maintain memory and the ability to recall
Practice daily living skills
Focus on the ability to sequence
Develop new skills and transfer these skills into the home environment
COGS Club activities
A day at COGS club is generally split into five different areas, using repeated exercise:
Music - Music, particularly singing, can reach parts of the brain in ways which other forms of communication cannot. Singing, dancing and paying attention to song lyrics can help unlock memories and kickstart the grey matter. It can also be a lot of fun too!
Quizzes - Group quizzes are not only great fun for our clients but also help with their ability to recall and process memories and information.
Monetary exercises - Monetary exercises can help COGS members to maintain skills in counting money and working with numbers, which can become more challenging with time.
Reminiscence - Reminiscene therapy uses sensory aids to help with the ability to recall, invoking memories and stories that give both comfort and stimulation to someone with Dementia. Not only can this help reduce stress, but it also brings our clients and staff together to share stories and make new friends.
Orientation - Certain exercises and conversations are useful in reducing disorientation in people with Dementia, which can be as simple as having a chat with our clients about their day.
COGS Club locations
Our COGS Clubs are available in all three of our Day Centres, though our specialist Dementia Centres are The Capstone Dementia Centre and The Pat Warner Suite, which is located within The Mackenney Centre.
| Location | Day of the week | Time | Contact Number |
| --- | --- | --- | --- |
| The Chris Ellis Centre (Strood) | Monday | 10:00 - 15:00 | 01634 724745 |
| The Mackenney Centre (Gillingham) | Monday | 10:00 - 15:00 | 01634 380195 |
| The Capstone Dementia Centre (Chatham) | Tuesday | 10:00 - 15:00 | 01634 406058 |
| The Capstone Dementia Centre (Chatham) | Wednesday | 10:00 - 15:00 | 01634 406058 |
| The Mackenney Centre (Gillingham) | Thursday | 10:00 - 15:00 | 01634 380195 |
> Read more about The Chris Ellis Centre and The Mackenney Centre
> Read more about The Capstone Dementia Centre
> Read more about The Pat Warner Suite
Meet the COGS Club Team
"The results speak for themselves when you look at the cognitive stimulation the COGS club provides but, for me, one of the most wonderful aspects of this club is the social side. Members flourish because they have the opportunity to be themselves in a relaxed and uplifting environment. True friendships are made, and the fun and laughter never stops. I absolutely love this club and I'm so proud to call myself a COGS Club Faciliator."
Sarah, COGS Club Faciliator at Capstone Day Centre
What our COGS members think
"All of us at COGS, including the staff, are fighters. There is never a sense of 'okay, that's enough', but there is a drive for better, for more, and a constant belief in each other that more can be achieved. The knowing and understanding support from the other members and the well-informed staff gives you fun, hope, desire, courage and the confidence to continue surviving in a world that usually seems to conspire against everything you once knew and understood."
Wayne, COGS Club member
Additional Information
For more information on our services: