As a care provider we are inspected by the Care Quality Commission (CQC) and our local authority, Medway Council. You can view our most recent CQC inspections in full online at www.cqc.org.uk
The inspection found us to be fully compliant in the essential standards of quality and safety.
Age UK Medway is rated as a 'gold' provider of care services by Medway Council, the highest banding awarded by the Council. The banding is reviewed every six months and is inspected against nine Key Performance Indicators (KPIs) to ensure that you receive safe and good quality care.
Our friendly teams in Medway and Faversham are here to help you with all your care needs.
We treat each person as an individual by offering a personalised service, to support people with the same respect you would want for yourself or a member of your family. We offer a full range of care, assisting with: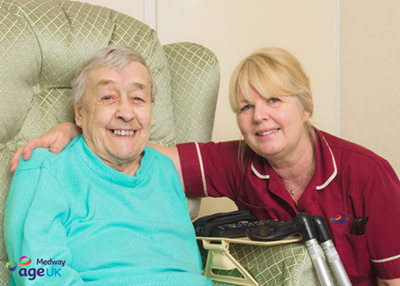 All personal care needs
Breakfast calls
Lunch and tea calls
Assisting to bed
We also provide check calls, prompt medication, shopping and domestic calls across both Medway and Faversham.
Community Bathing
Age UK Medway operates a community bathing service. The service provides the required level of assistance to allow people to have a bath or shower safely in their own home.
If you are interested in receiving more information about our Homecare services please give us a call on 01634 401099 for our Medway team, or 01795 506490 for our Faversham team. All information discussed is dealt with in the strictest confidence.
Please note: Age UK Faversham Homecare Services has now joined with Age UK Medway, but you can view their current archived CQC report below, as well as Age UK Medway's current report.
Additional Information
For more information on our services: