Age UK North West Kent believes that people using our services should be safeguarded from all forms of abuse and recognises that it must protect its service users from the risk of abuse, identify, and deal with specific instances of abuse if they occur.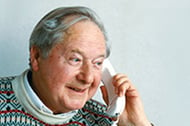 Age UK North West Kent is always aiming for the very best quality of care and support. We will not be satisfied with anything that falls short of this and will take every action to minimise risk and prevent abuse, dealing with it promptly and effectively should it occur.
The Charity has a very comprehensive Safeguarding policy which includes all the useful contact details of the authorities and other agencies who can take any necessary action, offer support and provide guidance.
If you would like to know more about our Safeguarding policy, you can view our safeguarding policy in full or see our handy safeguarding guide for the public, produced by Northwest Kent.
Age UK North West Kent's latest Safeguarding policy