The 'Bathing Plus' service can include additional tasks to help e.g. making the bed, a cup of tea and light snacks, help with Catheter Care, Commode emptying and shaving, but will be subject to a COVID-19 risk assessment and may not always be available.
April 2019 : Charges for services are now based upon time i.e. the duration of the appointment. Most visits and tasks are completed within 30 minutes. Additional charges will occur if the appointment extends up to a 45 minute maximum. Charges will vary if one or two staff attend following assessment. Please go to our 'prices' page for details.
Click on this image to download or view our Bathing Plus leaflet
Our staff are very friendly, caring and experienced. The service is regulated by the Care Quality Commission and delivered to the highest standards of care. We continue to seek to improve the quality of the service at all times. (See below for the latest information on our CQC rating). Staff will provide safe bathing procedures either in your home using your own facilities or at our day centres in Dartford or Gravesend.
If you visit either of our centres we have special (easy access) baths to safely wash and get in or out of with the help of our support workers. Some facilities have electronic hoists. (We upgraded both our bathrooms in Dartford and Gravesend Centre with the very latest bathing equipment to help you safely enjoy your bath.
Our Bathing Plus team have been trained by Age UK North West Kent and receive regular updates. The service works to Care Quality Commission standards and is regulary inspected, for more information, please see below.
What we offer:
Fully trained Bathing Plus staff.
One member of staff in attendence most times, and two staff if assessed as necessary.
Care Quality Commission regulated service.
Special care to preserve dignity and privacy at all times.
Safe procedures in your home or at one of our centres.
Highest standards of hygiene and safety are maintained.
Bath, shower or full body wash.
Wash, shampoo and towel dry hair(*)
Plus - Catheter care support
Plus - Shaving (Electric only if blood thinners are prescibed)
Plus - Making a cup of tea/coffee or light snack.
Plus - Making the bed
Plus - Commode emptying
(*) Unfortunately we are not able to set or blow dry your hair.
The service operates Monday to Friday, but not on Public Holidays.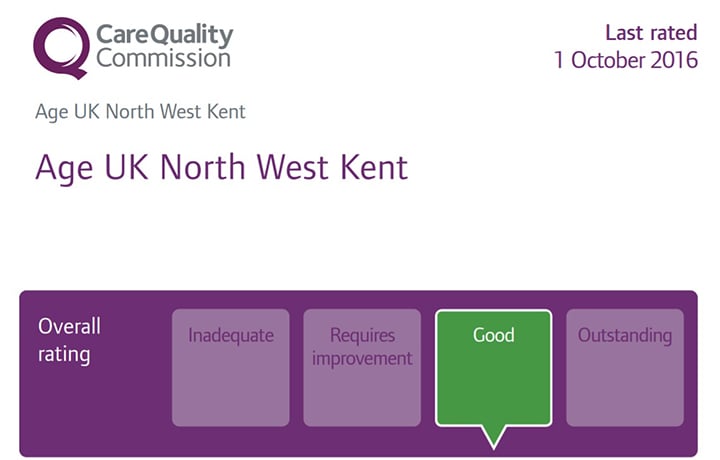 You can view the full report of Age UK North West Kent on the CQC website.
Pricing (April 2019)
To see our latest price 2019-20 list, please visit our Service Price List page.
Contact Us
For more information about the service, or to book an appointment, please call us on 01474 567131 or alternatively, you can email us at community.services@ageuknorthwestkent.org.uk