Day Break Service - Dementia Support
TEMPORARILY SUSPENDED
Unfortunately due to the UK entering a second lockdown, our Day Centre's in Gravesend and Dartford will be closed from Thursday 5th November 2020. We are still running our Community Services and will continue to support the elderly and vulnerable in our community whilst we can. We would like to thank everyone for their patience and support during these difficult times.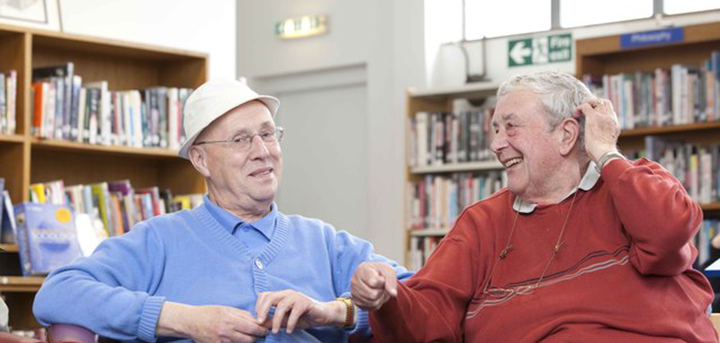 Introduction to Day Break
Our dementia Day break services are highly valued and designed to support older people in the earlier stages of living with dementia, as well as provide a much needed respite break to their carers.
Day Break supports older people living with dementia in a welcoming, fun, safe and supportive environment where people can build new friendships and benefit from a variety of cognitive stimulation methods.
Day Break promotes a 'person centred' approach where individuals with mild to moderate dementia take part in meaningful and stimulating activities, proven to help maintain memory and mental functioning. People feel valued, accepted and an intergral part of the community. We can help people in different ways through their journey living with dementia, and put carers in touch with other local and national dementia information and support.
What Day Break offers
Older people living with dementia can find it difficult to carry out every day practical activities and transact in meaningful conversations. This can have a big impact on how they feel as an individual and it can affect their confidence and self-esteem. Difficulties in speaking and following conversations can result in the person becoming withdrawn and isolated.
On an on-going daily and weekly basis we provide a programme of facilities for reminiscence and memory therapies, discussions, activities, games and quizzes, arts, crafts, dining and relaxation. Physical activity and exercise is encouraged including access to our garden areas (Gravesend has a specially designed - dementia garden).
We also offer other services shared by the whole centre, which include e.g. access to chiropody, bathing and hearing and sight specialists (additional charges may apply). The external doors have electronic keypad locks making the centre safe and secure.
Day Break provides a freshly cooked two course lunch and refreshments throughout the day, which is included in the price. (See our price list of charges for this service)
Transport is available but may be limited at times, subject to demand. A separate daily Day Break transport charge will be applied - please enquire for more details.
Personal Care Planning
Each person will have their own care plan which will include information on basic needs and preferences, such as safety, eating, drinking, mobilising, toileting and maintaining dignity, choice and independence. The service will compile a personal profile of the individual's life story, detailing important meaningful events which assist our staff with understanding people's personal background to support memory stimulation wherever possible.
The Purpose of Day Break - is to offer:
An enjoyable day out in a welcoming, fun, friendly and cognitively stimulating environment supported by trained and caring staff.
Support for carers at home with a much needed respite break.
Sensitivity to the personal dignity, diversity, equality and general needs of the individual and their carer.
Improvement wherever possible to the quality of life, health and well-being for the individual and their carer at home.
Outcomes of the Service
It is expected that an older person who lives with dementia and attends Day break will be :
More likely to remain living independently for longer in their own home.
More likely to respond to the a variety of stimulation provided in a new structured setting with new people to meet and talk to.
More likely to be actively independent away from a home environment, providing that vital repite break to others.
A structured activities programme will be carried out either as a group or on a one-to-one basis. Specific outcomes are focused on, such as helping reduce confusion, encouraging social interaction, restoring self-esteem, reducing isolation, providing physical and mental stimulation, memory focus and having fun.
We recognise that people living with dementia are individuals and we work hard to create an experience tailored to an individual's needs
Dementia Diagnosis
To access Day Break a medical diagnosis is not required, however we strongly recommend that a General Practitioner is consulted as soon as possible, as a formal diagnosis of dementia may make other resources and support available from the NHS and Adult Social Care.
Added Value for Carers : The service also offers:
A high degree of reassurance that loved ones are safe, secure and sensitively supported whilst away for the day.
Potential peer support and contact with other carers can be available.
Access to information and other services provided by Age UK North West Kent, Age UK (National) or other organisations in the local area or nationally.
Access to information and advice linked to applying for any relevant and qualifying financial state benefits.
We offer the Gravesend service from our Gravesend Centre from Monday - Friday. from 9.30am up to 4.00pm
We also offer the Dartford service from our Dartford (Meadowside) Centre every Monday. from 9.30am up to 4.00pm
Some of the Day Break activities that we provide:
Chair Based Exercises - Helping to prevent falls, improve posture, core balance, encourage mobility and strength and improve cardio-vascular functions.
Reminiscence & Life History - A fun and highly stimulating activity that restores self-esteem and reduces isolation. Reminiscence uses all the senses to stimulate the memory so discussion can take place. We access a variety of special reminiscence library material from Kent County Council which assist with any specific themes for memory recall. We have an extensive music and DVD film library which is very popular.
Games, Exercise and Movement - Active games encourage people to develop, relearn and use social skills. In an atmosphere of friendly competition, skills such as coordination, dexterity, numeracy and reminiscence are brought out within a fun, and sharing experience.
Arts & Crafts - This helps to promote creativity through working with, exploring and discovering a wide variety of materials. Wherever possible we try to introduce new experiences for people to try. We have a trained activities coordinator who will lead sessions working with our Day Break staff.
Discussion Groups - These can be both relaxing and stimulating as well as informal. They provide a setting for free expression, building relationships and developing social and listening skills.
Gardening Club - A hands-on dementia friendly experience for those with a passion for the garden, plants and flowers. (n.b. limited space in Dartford)
Reality Orientation (RO) - we emphasise and regularly discuss on a daily basis where people are, what country and community they are in, what day of the week it is, the time, the weather, the season. We use RO white boards and other visual aids to maintain focus throughout the day. Daily newspapers are discussed with current news topics to focus on what's going on in the world - near and far.
Dementia Friendly Communities
Age UK North West Kent is a partner in the Dementia Friendly Communities initiative, sponsored by Kent County Council. There are a host of additional dementia support services that are provided by one of the local dementia charities, the Alzheimer's Dementia Support Services.
Find out more about this initiative at: http://alz-dem.org/ (please allow this link a few seconds to load)
Age UK North West Kent has signed up to the Dementia Pledge - click on the logo to see what this is all about.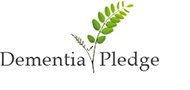 Age UK North West Kent has commited to being a Dementia Friend and support building Dementia Friendly Communities - click on the logo to see what this is all about.

Contact Us
For more information on our Dementia Services, visit either our Gravesend Dementia Day Break or Dartford (Meadowside) Dementia Day Break pages, or alternatively contact us by calling us on 01474 564898 and asking to speak to Chriss Monks, the day services manager or email us at: contactus@ageuknorthwestkent.org.uk. Alternatively as a contact, Chriss is ably supported by her Day Service Deputy Managers - for Gravesend this is Donna Mawhinney and for Dartford (Meadowside) this is Nikki Manwaring. Don't hesitate to contact them for more information.