Fresh Meals Service (Doorstep - Home Delivery) Still Available
CORONAVIRUS : - Our highest priority is to still deliver our vital fresh meals service. This will be subject to government instruction and our capacity.
Our service continues to adopt very high standards of food hygiene in the cooking and packaging stage, as well as our delivery staff following excellent personal and food hygiene practices, combined with social-distancing and use of PPE as recommended by the Government, Public Health and the NHS.
Our current service is aimed at older people who are the most vulnerable and isolated in our community with no other support networks.
To protect our customers and delivery staff, in the majority of cases this will be a 'Doorstep' delivery only with no close contact and no entering people's home. We will agree with you a safe method of delivery.
We highly recommend that all of our customers follow best advice to reduce the risk of contracting the virus and reducing the risk of passing the infection to others. Here is the link to the NHS on this subject.
https://www.nhs.uk/conditions/coronavirus-covid-19/
Demand for our meals delivery service is rapidly growing so do get your orders to us as quickly as possible. We have created the capacity to double our kitchen output and are working very hard to deliver the best choice of meals in highly challenging circumstances. Our biggest challenge is having safe delivery capacity.
Very best wishes from all the team here.
N.Vian Chief Executive Officer
Age UK North West Kent
Our five-star commercial kitchens in Gravesend currently produce in excess of 140 community meals every day, 7 days a week, 365 days a year.
We can provide a hot, freshly cooked, two course mid-day meal to anyone who needs one in the North West Kent area, including the Boroughs of Gravesham, Dartford and parts of North Sevenoaks and Swanley. We are looking to expand our service within that area, so if you live nearby, please contact us to see whether we can arrange a meal delivery.
All of our meals are freshly cooked, they are not frozen or re-heated in a microwave oven or defrosted and heated in the delivery vehicle. Our meals are made using locally sourced ingredients wherever possible, brought to your door, ready to serve.
Our service has been established for the last eight years and is already producing 40,000 - 45,000 meals a year to satisfied customers across the North-West Kent area.
If you would like to try our meals, please get in touch, you can call us on 01474 350525 or email us at community.services@ageuknorthwestkent.org.uk
For more information on the service, or healthy eating for older people, please see the links towards the bottom of this page.
We offer an extensive weekly menu range which is reviewed and updated regularly. For this weeks menu, please see below:
VEGETARIAN OPTIONS: See below for a range of permanent options including specific Quorn meals
If you order a main meal you can also order a 'Snack Pack' for later in the day - see details below.
MENU - For the week ending:
7th June 2020
Main courses and sweets may be subject to sudden change in the current circumstances;
MONDAY:
Bacon & Onion Pudding with Vegetables
Bakewell Tart & Custard
TUESDAY :
Savoury Mince with Vegetables
Lemon Sponge & Custard
WEDNESDAY
Coconut Chicken with Vegetables
Apple & Blackberry Crumble
THURSDAY
Sausage Pie & Creamy Mashed Potatoes with Vegetables
Chocolate Gateau
FRIDAY
Chilli Con Carne
Lime Jelly & Cream
SATURDAY
Steak Slice with Vegetables
Strawberry Mousse
SUNDAY
Sunday Roast Turkey & Stuffing with Vegetables
Meringue & Fruit
ORDER A 'SNACK PACK' for later in the evening - as well - daily - see below
All dietary needs met. Salads/Fish and light puddings available daily, seasonal vegetables daily. Puddings are subject to change.
Please order before no later than 10.30 am on the day, and order alternatives the day before.
01474 350525
We always attempt to keep to our advance menu planning.
Sometimes there may be technical issues, power failures, supplier problems or staff shortages that mean we have to vary the menu without notice. We will always try and keep this from happening as much as possible. Sometimes due to technical issues with the website we are not able to refresh and update the menu as quickly as usual. Please contact the above number for menu details.
On rare occasions due to technical web problems we are not able to update the menu.
To remind you ......
We deliver every day - if you would like a meal delivered, please order before 10:30am on the morning of delivery.
Try our very popular sandwich 'Snack Pack' service - delivered with your main meal, prepared fresh that day, ready for your fridge for a snack later in the evening.
Pricing (from April 2019)
The cost of a mid-day, delivered fresh, two-course meal from Monday-Friday is £7.90. (Couples £14.30)
For weekends and bank holidays, the cost is £8.40 (Couples £14.80)
'Couple' is defined as requiring two main meals on the same day, delivered to the same address.
Our 'Snack Pack' is priced at £4.50 per pack.
Snack Packs are priced per person, per pack, only available with a main meal delivery.
VEGETARIAN MENU:-
Permanent Options:
Pasta Bake
Vegetarian Sausages
Risotto Rice Bakes
Vegetarian Kievs
Monteray Jack BBQ Bean Burger
Cauliflower Grill
Vegetarian Pies
Lasagne
Casserole
Jacket Potato
Salad (Egg/Cheese)
QUORN Options:
Cottage Pie
Shepherd's Pie
Savoury Mince
Roast Dinners
Moussaka
Please order alternatives the day before.
Our commitment to the highest standards of quality
Our Commercial kitchens have been regularly inspected by the local Environmental Health department looking in detail at our Food Hygiene standards.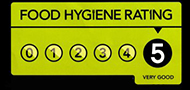 Our kitchens have been awarded the highest Environmental Health standard of five stars as recently as April 2019 for Gravesend. The same for our Dartford kitchens awarded during 2018.
Inspected externally again in November 2018 against the Quality Standard ISO9001-2015 and passed to the highest standard.
Try our service for a trial period or for those times when you simply don't want to cook!
We supply meals to hundreds of households across North West Kent including the Boroughs of Gravesham, Dartford and parts of North Sevenoaks and Swanley. We are looking to expand our service so if you live nearby then give us a call to see if we can help.
We have a great team of friendly and efficient drivers who deliver the meals to your home, ready to eat, maintaining the correct temperature in special heat retention boxes. The individual meals come in disposable foil trays with lids and are easy to serve on to a plate.
We can also offer meals that may be required for special dietary needs.
We have a great catering and exceptionally helpful administration team at Gravesend and any messages for this service will always get through.
The service is managed overall by Mrs Kate Smith the Community Services Manager - Call 01474 350525 and go through to our 'Meals' service.
Email us at community.services@ageuknorthwestkent.org.uk
Are you eating enough?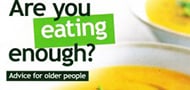 Find out more about making the most of older life and making sure that you eat enough to keep you going. This handy leaflet includes meal suggestions and ways you can make sure you are eating healthily.
Download the 'Are you eating enough?' leaflet advice for older people leaflet here.
Additional Information
More information about our services