Age UK North West Kent provide a hot, freshly cooked two course meal delivered between 12pm-2pm to residents living in the North West Kent area. All of our meals are freshly cooked using locally sourced ingredients. We also offer an additional Snack Pack service that can be ordered alongside one of our main meals, a Snack Pack can be saved to be eaten later in the day and includes a sandwich, cake, crisps, biscuit and a drink.
Our Fresh Meals Delivery Service cover the following area's:
Boroughs of Gravesham
Northfleet
Dartford
Swanley
Longfield
West Kingsdown
Farningham
South Darenth
If you are unsure if we cover your area, would like more information or would like to register your interest, please call 01474 350525 or email community.services@ageuknorthwestkent.org.uk .
Price List:
'Couple' is defined as requiring two main meals on the same day, delivered to the same address.
VEGETARIAN MENU:
To register your interest, please call 01474 350525 or email community.services@ageuknorthwestkent.org.uk .
MENU
Week Beginning - Monday 19th October 2020
MONDAY
Steak and Ale Pie with Herby New Potatoes and Seasonal Vegetables
Lemon Sponge and Custard
TUESDAY
Sausage Casserole with Creamy Mash and Seasonal Vegetables
Apple and Cranberry Crumble with Custard
WEDNESDAY
Cottage Pie and Seasonal Vegetables
Mixed Fruit Trifle
THURSDAY
Chicken Wrapped In Bacon with Buttered New Potatoes and Seasonal Vegetables
Chocolate Sponge and Custard
FRIDAY
Roast Pork Chops with Roast Potatoes and Seasonal Vegetables
Black Forest Gateau
SATURDAY
Traditonal Lasagne and Seasonal Vegetables
Rice Pudding with Jam
SUNDAY
Roast Beef with Roast Potatoes, Yorkshire Pudding and Seasonal Vegetables
Mousse with Fruit
The menu may be subject to sudden change in the current circumstances.
All dietary needs met. Salads/Fish and light puddings available daily, seasonal vegetables daily. Puddings are subject to change.
To order a main menu, please call before 10:30am on the day.
To order an alternative meal please call the day before.
On the rare occasion that the menu is not updated, please call 01474 350525 to find out what we have on offer.
We apologise in advance for any issues (powercut, suppliers, etc...) that may mean we have to vary the menu without notice.
Our commitment to the highest standards of quality
Our Commercial kitchens have been regularly inspected by the local Environmental Health department looking in detail at our Food Hygiene standards.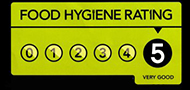 Our kitchens have been awarded the highest Environmental Health standard of five stars as recently as April 2019 for Gravesend. The same for our Dartford kitchens awarded during 2018.
Inspected externally again in November 2018 against the Quality Standard ISO9001-2015 and passed to the highest standard.
Are you eating enough?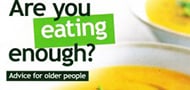 Find out more about making the most of older life and making sure that you eat enough to keep you going. This handy leaflet includes meal suggestions and ways you can make sure you are eating healthily.
Download the 'Are you eating enough?' leaflet advice for older people leaflet here.
Additional Information
More information about our services