The garden cafe and shop are open daily from 9am - 3pm with hot food and drinks available to takeaway or to eat in the garden. The shop has been re-stocked with pre-loved, quality items of clothing and bric-a-brac.
What's on
Some of our groups are meeting online - see the online activities and events page. These include the Local History Group and the Writing Group.
The award winning Critchley Community Hub, Social Centre and Garden Cafe welcomes people to make new friends, learn a new skill, and enjoy a speciality coffee and cake or a homecooked lunch all in bright and modern surroundings. The Community Hub received The Queen's Award for Voluntary Service 2018.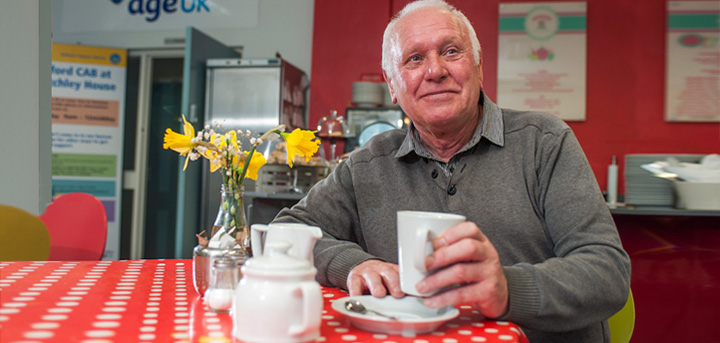 At Critchley Community Hub, we encourage healthy living, group activities, and gentle exercise. We offer volunteering opportunities to help to alleviate social isolation and loneliness. The hub recently featured in Life in Salford Magazine. (Page 20).
Everyone is welcome at Critchley Community Hub. The Garden Cafe, which has a five point hygiene rating from the food standards agency, serves home-cooked lunches and light bites together with speciality coffee and freshly brewed tea and homemade sweet treats. See our menu.
We have a friendly team of over 12 volunteers. We also sell locally made crafts and gifts, quality second hand clothing, and bric-a-brac all at affordable price.
We always welcome new members to join the many fun and varied activities, if you would like to find out more about Critchley Community, contact us on: 0161 359 3410.
Critchley Community Hub on BBC Breakfast
Groups, Activities and Events
A wide range of activity groups meet on a regular basis at Critchley. Groups are all open to new members. If you're not sure which is the group for you, why not call and chat to one of our friendly volunteers who can explain more and arrange an introduction for you.
We have celebrated many events at Critchley Community including the Great Get Together - where guests enjoyed a fabulous afternoon tea.
Critchley Potters
A social, relaxing group to explore your creativity in a paint your own pottery class. Every Friday, 10.30 - noon. £5 includes all materials and a hot drink and biscuit.
Coffee & Company @ Critchley
Come for a chat, a cuppa and find out about all the things you can do at Critchley. For those looking for some company and a chat in a friendly and welcoming cafe environment. Every Friday morning 11-12.
A programme of guided walks through the local area, led by an accredited Walking for Health volunteer. They are held regularly on a Wednesday morning leave Critchley at 11am. You should wear sensible footwear and dress for the weather. Free to join. Upcoming dates of the walks (weather permitting). The walks have been supported by Groundwork, Sport England, Clarion Housing and Salford Community Leisure and feature in the Sport England Community Acitvity Programme Report.
You can watch our video featuring Paul Sherlock, an accredited Walking for Health volunteer and walk leader and David Roughley, member of the local history group who has helped develop the heritage walks.
Reading Group
An informal, friendly tutor-led group who meet every other Friday over a speciality coffee or pot of tea, slice of cake and plenty of discussion. Session fee: £5. All printed texts are provided and your first session is free.
Lunch and More
A social gathering where you can enjoy a nutritious lunch and make new friends.
The Lunch and More group meet every week on a Tuesday 12-2pm. Come along to Critchley Community Hub and enjoy a homemade three course lunch which includes a delicious soup, a hot main meal, dessert and a tea or coffee all for just £5.50. There is also the opportunity to join in a game of bingo or karaoke.
Friday Film Club
Every second Friday of the month. We show local and nostalgic films whilst enjoying popcorn, a hot drink and a slice of cake all for just £3.00. The film starts at 1pm.
Gardening Social Group
Do you enjoy meeting new people whilst learning or enhancing your knowledge of gardening? If so then why not join us every Thursday 1-3pm; £1. The group have worked together with Incredible Education to create an edible garden: https://www.incredibleedible.org.uk/news/working-together-incredible-education-and-age-uk/
Watch the video of the group.
Knit and Natter
Every Friday 10-12pm and is free to come along. This is an informal social gathering, learn to knit and crochet or finishing what you've started, enjoy a natter and a coffee. Beginners are welcome. (Bring your own materials).
Tech and Tea
A free five week basic computer course for people who are new to computers and those who want to improve their skills. A tutor-led group based in an informal friendly environment. A hot drink is included. Places are limited so contact the Hub to reserve yours. All equipment is provided or you can bring along your own laptop or tablet. Contact the Hub to find out when the next course is due to start.
IT Drop in
Free information session to help with any IT problems or seek advice.
Local History Group
This group meets on a Saturday once a month 10-12pm. A light hearted quiz/historical film show and guest speaker. If you are interested in local history, why not come along. Contact the Hub for further information.
Follow Swinton history friends on Facebook.
Creative Writing Group "Switch" (Swinton Writers in't Critchley House)
A friendly tutor-led group open to people of all abilities who are keen to improve writing through practice. If creative writing is not for you, you could still get involved in the group by offering help with services such as illustrating, proof reading, editing and copy typing. Price of £2.50 per session includes a hot drink.
The Gold Lions Club - The Swinton Lions Foundation
The informal group meets for monthly presentations by Swinton Lions Club Director and official historian, Steve Wild.
Healthy Hips and Hearts Class
A gentle exercise session led by a qualified leader from Salford Community Leisure. Free to join - Once a month on Tuesday at 10.30am. Contact the Hub for details of next class.
Carer's Support Group
An opportunity for people living with dementia and their carers to come together and enjoy good company and support from Age UK Salford specialist Dementia Support Service. Lunch and refreshments are available from our garden cafe. The group meet on the 1st Wednesday of every month.
Pension Wise Service
By appointment only, free impartial and practical information call in to the centre for further information.
Salford Citizen's Advice Bureau (CAB)
Every Thursday 9-12pm, drop in information and advice for the over 55's. No appointment is necessary.
We always welcome new members to join the many fun and varied activities, if you would like to find out more about Critchley Community, please contact us on: 0161 359 3410.