The Write Partnership is a wonderful addition to our befriending services. The aim of The Write Partnership is to match older members of our community with pen friends who have common interests or simply share that feeling of excitement when a handwritten letter is posted through the door!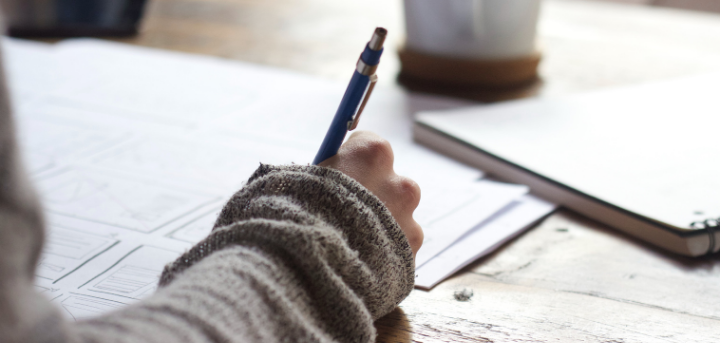 The story behind The Write Partnership
Running for the past two years, this service was set up by a fantastic volunteer called Sara. Here's the story behind the service...
Back in 2017, Sara heard an interview with a university lecturer in Yorkshire who had set up a pen pal scheme, which partnered undergraduate students with members of the older generation. It's aim was to combat loneliness. Sara was totally inspired by the testimonials from it's participants and wondered whether she too could set up something similar, but locally. With a busy family and social life, Sara didn't consider herself lonely, but had always enjoyed writing and receiving letters, however infrequently in recent years!
Knowing that it would be easy to encourage friends of various ages to get involved as volunteers, Sara thought it would be wonderful so set up a project whereby the community could connect with their older generation through a pen friend scheme.
After contacting Age UK Tunbridge Wells, The Write Partnership was born!
Joining The Write Partnership
The feedback has been overwhelmingly positive from the start. We are always looking for new members of our older community to join The Write Parternship so if you or someone you know would like to join, please email: writepartnership@ageuktw.org.uk or call us on 01892 522591.
How much does it cost?
The Write Partnership is free to join.
Updates due to COVID-19
As we know, this year has been different for everyone. Recognising that our older members are likely to be further isolated by Covid-19, The Write Partnership has adapted, encouraging it's volunteers the make regular phone calls to their pen pals. It has been lovely to hear that in some cases, friendships have deepened even further...
"Telephoning Maggie was a little nerve-wracking at first, even though I meet new people every day face to face. Speaking to someone without knowing what they look like or seeing their facial expressions is strange in this era of FaceTime and WhatsApp Video Calling, but, after introducing myself, I was able to find out some key facts about Maggie's life which I found myself noting down so I could reference in future calls. My urge to be as sincere as possible quickly dissipated when I realised I was talking with ease to a warm, funny lady who was keen to share aspects of her lock down experience.
We had both worked in the community and had stories to share about working with children. Maggie told me about her new smartphone, which had opened up world of technology which was easing her isolation. I often thought of her through the long weeks of her shielding and we talked about her routine and daily sources of entertainment, which were not dissimilar to mine! The experience has been an absolute delight so far and has provided me with a rewarding source of weekly conversation." - Volunteer from The Write Partnership