What is Men in Sheds?
Men in Sheds is a place where like minded older men can come together, have a chat over tea and biscuits whilst learning new skills such as woodworking, IT, Art and much more...

The Shed aims to support older men aged 50 and over who may have experienced life changing events such as redundancy, retirement, bereavement and mental or physical ill-health.
It may be that you are just looking for something new to do!
It is a safe, supportive and friendly place to meet, where men can socialise, do a bit of light work or busy themselves doing a hobby or learn new skills.
'Shedders' will have access to facilities and workshop space where they can share and learn skills.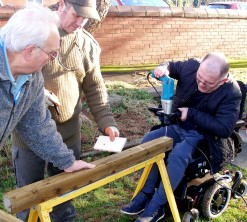 It's an opportunity to get out and about and get involved in something new and different and continue to be happy and enjoy life as it should be.
What people have said...
"It puts fun and laughter back into life."
"It's better than daytime TV or nodding off in my chair."
Where are we?
We are close to Barnsley town centre and easily accessible via public transport.
The Newburgh Building (Ground floor)
McLintock Way
Barnsley
S70 6BF
When are we open?
Monday to Friday, 10:00am to 3:30pm (please note we are currently closed due to current restrictions)
Contact us:
For more information contact us on:
Telephone: 01226 730412
Email: enquiries@ageukbarnsley.org.uk
Information Leaflet
Click the download button to the right in order to download our Men in Sheds information leaflet
Other information you may find helpful