The Hospital Care Navigator service is a free and impartial service aimed at people who need help to get linked into extra support in their local area.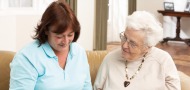 Our team of care navigators are integrated at the Kent & Canterbury hospital and strive for the safe and timely discharge of patients, working with Occupational Therapists, Physiotherapists, Carer's Support and Kent County Council and the Discharge Nursing team. In addition, we provide a service to the community hospitals in East Kent in order to support winter pressures.
The service offers bespoke advice and assistance to find the best way to manage your problems and needs after discharge from hospital, from falls prevention to finding care packages, looking at housing options to signposting for benefits advice.
The service aims to increase your independence to enable you to stay in your own home and avoid unnecessary hospital admissions through the selection of appropriate pathways.