Maria's Story - Whether it's Laughter or Tears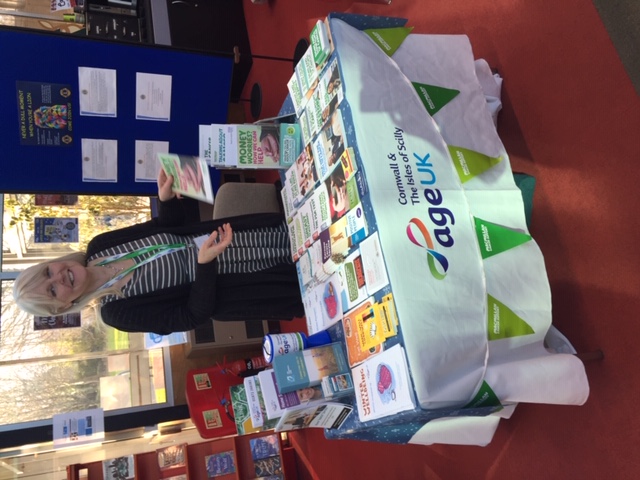 Published on 17 May 2020 04:08 PM
Maria Faulkner, Age UK Cornwall & the Isles of Scilly, shares her experiences during COVID-19 and provides insight into how her role, as Macmillan Coordinator, has changed. All thoughts are her own.
Can you share a little bit about yourself?
Hi everyone, I'm Maria Faulkner. Previously, I worked for 6 months as a Macmillan Community Navigator for Age UK Cornwall and the Isles of Scilly I am so proud to have secured my new post as Macmillan Programme Coordinator. I bet you can guess when my new job role began? Yes, that's right, right in the midst of the pandemic! With the end of year report in-hand and the excitement about a new phase of programme delivery for Macmillan, I was raring to get stuck in.
How has your role changed?
Well, it's been a bit of a shock to find myself in some very new work roles: I have done a bit of everything, from providing transport for patients to researching and writing for our dedicated Cornwall Link Covid-19 platform. A large chunk of my time has also been spent by providing Telephone Support and Welfare Calls.
It has been quite the change and I certainly never anticipated in my new role to have a note-to-self on my lovely home-based desk bureau, that said: 'Face masks – take to Falmouth Day Centre; Clean car for passenger from Treliske; Dispose of gloves and mask after use.'
Everything I expected to be doing has had to change. But the changes are very much needed in this current climate. I've learned things about our new Cornwall Link platform, which I never imagined I'd be doing – I can now add community activities on this platform with confidence. I even got called on for my writing skills (something I love to do) and I've really enjoyed writing 3 blogs – Staying at Home; Shopping and Deliveries in Cornwall and a recent one blog focused on Mental Health. They're not going to be able to hold me back from these once it's all settled down.
Then there's been the Helpline priorities and another question I never imagined having to answer in my new role: 'Do you know of any warm food deliveries in Bugle?' This current situation has opened up a new digital world to me. This is a world where you can find communities on Facebook who are able to offer support and answer these difficult questions. I have signposted people to pubs that provide hot meals and to local shops that deliver up to 30-40 food packages a day. I even managed to find a delicious roast for a client on Easter Sunday from Miss Molly's tea room – she said that it made her day as she was really missing seeing her family.
Could you tell us about Telephone Support?
Well, in the midst of all this, I've spent hours on the phone to clients, especially those who were members of our bereavement groups. It's hard enough to cope with bereavement at the best of times and this has brought in the support they need.
Thank you for your call Maria, it makes a huge difference to me and shows you care
Then there are my fabulous volunteers; even in a situation where they're facing the same as everyone else, they've continued supporting their clients via telephone. Some volunteers have also needed a little extra kindness and I was so touched with this simple reply to one of my calls: 'Thanks for caring, Maria.' In my job, this makes it all worthwhile.
Is your work with Macmillan continuing?
My Macmillan role has changed, but it's definitely not neglected.
We're busy behind the scenes preparing for an alternative form of online support, to reflect the drop-ins, our Cornish communities have benefited from in the past. And very soon I'll be introducing two new Community Navigators to all of you – so I'm very excited about that. I'm also supporting, by telephone, any of our clients affected by cancer. I have plenty of up-to-date information at my fingertips – so if you need some support and signposting, please do get in touch. And, as always, I offer that very important service – a listening ear.
Whether it's laughter or tears, I'm here. Thinking of tears and laughter – I'm a mum and grandmother missing my family very much. I've always been proud of my son and daughter's achievements and here's one to make you all smile: my daughter, Emily Faulkner, playing Percy Pengelly in Cousin Jack's Theatre Company, based in Cornwall. They are recorded in self-isolation – see if you can spot her being a giraffe!