Springboard Social Groups
Weekly meet-ups around Gloucestershire to come together for a chat, enjoy a cup of tea and a biscuit or two, whilst making new friends.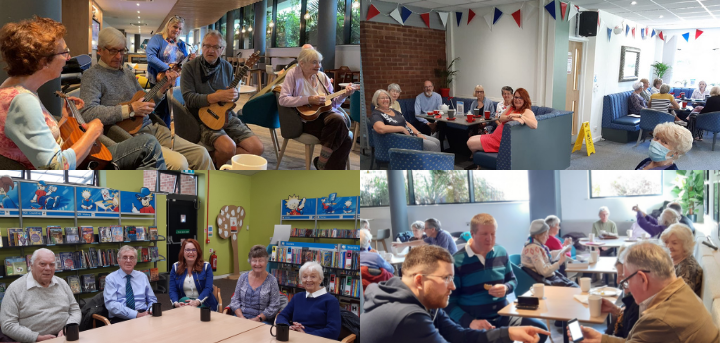 A great way to meet new people, hear from local guest-speakers, seek advice and support and explore a range of opportunity available in your community.
Springboard Social Groups are welcoming spaces which meet weekly around the county. As well as being a way to socialise with some new faces, they can also help to connect you with some of the other services we offer you. Our Help Team (link to their page) may drop in with some advice or our Digital Volunteers (link to their page) may be there to help you with any IT queries you may have. Find the upcoming events we have planned below and join our facebook group for regular updates.

All of the Springboard Social Groups are different and made unique by the people attending, their interests and spaces that they meet at. If you'd like to find out which one might suit you, give our Help Team a call on 01452 422660, press option 1.
"The group is made up of people, who are local and who are friendly. All have different reasons for joining and we all have something to give our group, which is an important part for everyone" Sandie, Springboard Social Group Member
Current Springboard Social Groups are:
Monday
Waterstones Cafe, Gloucester, 10:30-12
The Keepers Community Centre, Wooton-under-Edge, 11-1
Dementia Poetry Group, Quedgeley Library
Tuesday
Brockworth Community Centre, 1:30-3:30
Every other Tuesday our online group 'Cuppa with Jane' meet, 11-12
Wednesday
Waterstones Cafe, Gloucester, 10:30-12
Holiday Inn, Cheltenham, 11-12:30
Churchdown Library, 2-3:30
Friday
Waterstones Cafe, Gloucester, 10:30-12
Longlevens Community Centre, 10:30-12
Uke Group, Gloucester Central Library, 10:30-12
Quedegeley Library, 10:30-12
There is also a social gathering every other week in Stroud – days and times vary from week to week.
To find out more, join our Springboard Social Facebook Group or call us on 01452 422660, press option 1.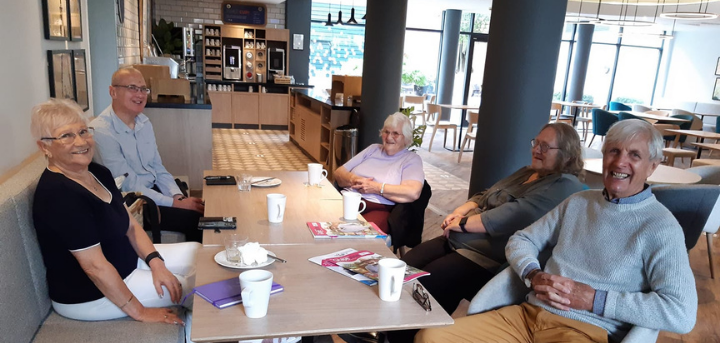 For more information:
To find you more about your local Springboard Group please contact our Help Team by calling 01452 422660 and pressing option 1.