There are many ways to get involved and make a difference to older people in Gloucestershire, volunteering can make such an impact on both your local community and yourself.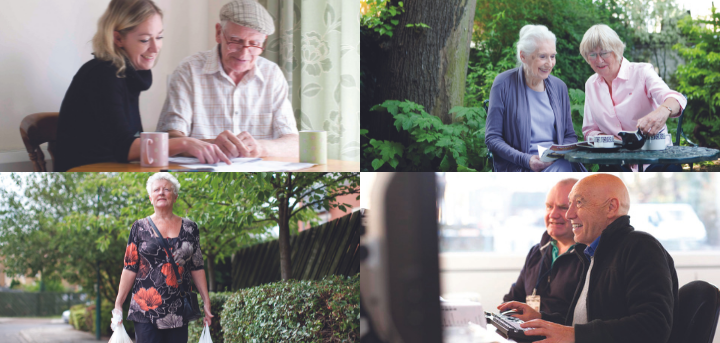 Volunteering can take many different forms, find what's right for you below!
We have a real mix of opportunities for people looking to volunteer, whether you have a lot or little time to give, we have something to suit you! Everyone has their own life experiences, skills, talents and abilities to bring to a volunteering role, which can make a huge difference in helping people enjoy later life. We all have something to gain personally from taking on a volunteering role, be that new friendships, new skills or a change in our own outlook on life.
If you would like to join our volunteer community, take a look at the current opportunities below and get in touch today to tell us what you'd like to try! Call Gail on 01452 420900 or email volunteering@ageukgloucestershire.org.uk to change your life today.
If you don't find a role that you feel suits you right now, keep checking for new oportunities or contact us anyway for a chat about what could work better for you.
Here are some of our opportunites right now:
Support our Help Team
Attendance Allowance is paid to older people who need help completing daily self-care task. It can make a huge difference to have this financial support as it can allow people to remain independent and comfortable. Could you support people with their applications?

Our Help Team need volunteers to support older people with Blue Badge Applications. Blue Badges can allow people to remain active and independent which can impact massively on wellbeing. Would you be able to support someone with their form?
Engage with your local community
After a stay in hospital people may find themselves anxious and uncertain about heading back home. Our Out of Hospital Team are there for people as they head home, ensuring people have access to the right information and assistance as they resettle. Would you be able to make this transition more comfortable for older people near you?



Our Springboard Social Groups provide a welcoming space for older people to meet up, make new friends and enjoy each other's company all while being informed about local schemes, services and events from Age UK Gloucestershire. Springboard Supporters act as the ambassadors who share information, organise speakers and generally make sure the Springboarders are enjoying themselves!
Spread the word about Age UK Gloucestershire!
We often have magazines, booklets and leaflets which we distribute around the county to make sure our services are accessible to people without an internet connection. If you prefer working behind the scenes or would enjoy travelling round to different community settings, this could be a great role for you!

We've been given an incredible opportunity to have an Information Hub in Gloucestershire Royal Hospital, a space to pass on guidance to people and their families within the hospital. If you would enjoy chatting to new people and helping pass on valuable information to those in need, find out more below.
Join in with one of our current projects
On Sunday 17th July 2022 we're hosting a Summer Garden Party at Highnam Court! It's set to be a great day with fun for all the family to enjoy. We would love some helpers across the event, from setting up, helping on the day and taking down after the event. If you can spare some from 15th-17th July, we have a mix of roles available! You can find out more about the event itself and how to purchase tickets here.

We really value hearing from people experiencing later life. The views and thoughts gathered help us tailor our own services and opportunities as well as influence key decisions around the county. Gathering feedback to our monthly question can take just a few hours on a monthly basis. You can also help us by sharing your own responses to our Question of the Month here.
Trustee Vacancies
Due to the end of existing terms, we're looking for a number of new trustees to join our Board. We're looking for people who can share their wide range of skills and experiences and want to be involved in helping us make the biggest difference possible to the older people of Gloucestershire.
Need more information? Here are our FAQ's about volunteering with Age UK Gloucestershire.
Change a Life. Change Yours. Do it today!
Why should I volunteer?
Volunteering is great! It makes a real difference to your community and also to your own life. There are our top reasons for volunteering:
Helping other people is the BEST way to feel positive about life
Learn a new skill
Meet new people and make new friends
Share your skills and talents
Gain experience/boost your CV
Surprise yourself!
Improve your mental (and physical) health
Push yourself outside your comfort zone
Give back to your local community
Be a part of our fantastic community, and support a cause you care about
Can I volunteer?
Yes! Everyone has something to offer – you just need to be over the age of 18
How much time do I need?
It depends on what you'd like to do, and how much time you have. Some people give a couple of hours occasionally, some give several hours every week. Some of our roles require a regular time commitment and some are flexible and ad hoc. We can match your skills and availability with the opportunities we have available.
How do I get started?
Take a look at the roles listed on our website for examples of the roles we currently have available. Even if you don't see something matching your skills, please call Gail on 01452 420900 or email volunteering@ageukgloucestershire.org.uk to discuss how you can get involved.