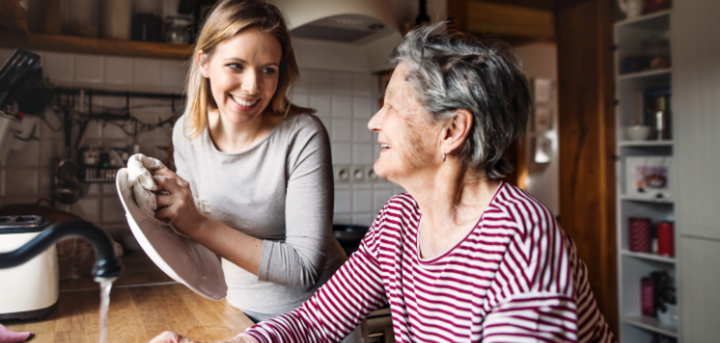 The fee for this service varies depending on circumstances, please contact us to discuss fee structures.
Age UK Gloucestershire
Henley House, Barnett Way
Barnwood
Gloucester
Gloucestershire
GL4 3RT
United Kingdom
Homeshare brings together older people who have spare rooms, with people who need affordable accommodation who are happy to chat and lend a hand. Sharing a home brings so many benefits, find out if it could work for you!
What is Homeshare?
Being able to remain comfortable, supported and safe at home is a priority for many people. Whether you live alone, are experiencing physical difficulties, or feel vulnerable living at home, having someone else sharing your home could make a real difference.

As a Householder, you welcome someone in to share your home. Within the agreement, you will benefit from low-level support around the house as well as some company at home. As a Homesharer you are not only offered an affordable place to live, but the opportunity to join a welcoming home. Deciding to share a home brings benefits for everyone involved! Our Homeshare Team work to find matches who suit each other's needs, and will support both parties throughout.
Watch Bryan and Melba talk about their shared experience
Bryan and Melba have been living together since they were matched by Homeshare Gloucestershire! They recently spoke at the Shared Lives Plus Conference, to help show the many ways Homeshare can improve people's lives. Take a look at the ways homesharing is benefitting them both using the link below.
https://www.youtube.com/watch?v=cWpBj2i_Ah0
How to get involved
If homeshare sounds like something which could work well for you, you can contact our Homeshare Team on 07760 419260 to have an initial chat and ask any questions you may have.

From here you will enter into the Matching Process, where the Homeshare Team work for find you the most suitable Housesharer. As soon as a match is found, you will be able to meet eachother and figure out if the match will work for you both. The Homeshare Team ensure everyone's thoughts heard and considered when going through the matching process.

You can find a full step-by-step Guide to the Matching Process using the link below.
https://www.ageuk.org.uk/bp-assets/globalassets/gloucestershire/our-services/homeshare/homeshare-matching-process.pdf
Our current opportunities for Housesharers
If you think sharing a home with an older person in Gloucestershire could work for you, take a look at our current opportunities using the link below.

☎ - If there's nothing suitable currently or you have any questions, contact the Homeshare Team on 07760 419260 to register your interest. You can also email the team on homeshare@ageukgloucestershire.org.uk.
https://www.ageuk.org.uk/bp-assets/globalassets/gloucestershire/portal/homeshare/homeshare-opportunites-jul-23.pdf