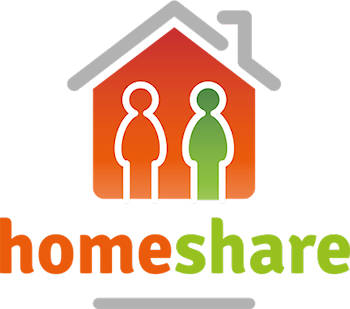 Homeshare brings together older people (the Householders) who have spare rooms, with people who need affordable accommodation (the Homesharers) and who are happy to chat and lend a hand. Homeshare can be a great and safe option for someone who misses having other people in their home.
The Householder
Benefits from some low-level support and company at home.
The Homesharer
Is offered not just a place to live, but a real home.
Together
Householders and Homesharers share home life, time, skills and experience.
Homeshare Gloucestershire
Carefully matches people, oversees the arrangements and provides professional ongoing support.
More about the matching process
Our Current Opportunities
We have opportunities all over Gloucestershire ready for Homeshare! Take a look at our full list below. If you have any questions or would like more information contact Ramona, our Homeshare Manager, on 07760 419 260 or 01452 422660.

If there isn't an opportunitiy which suits you currently, join our mailing list for updates by emailing
homeshare@ageukgloucestershire.org.uk
Listen to Sophie and Ann's Homeshare Gloucestershire Story.
Radio Gloucestershire interviewed one of our Homeshare Gloucestershire matches! Householder Ann and Homesharer Sophie met through our Homeshare Manager Ramona and went on to live together, bringing comfort and companionship to each other's lives. Here about how they found the experience below!
Watch Emma's Homeshare Gloucestershire Story
One of our current homesharers, Emma, has become a passionate ambassador for Homeshare.
In this video, she tells her story of how she came to share her home with an older person. As well as explaining the positive impact it's had on her life, the householder life and the lives of their extended families.
For more information
Tel: Ramona Amuza, Homeshare Manager on 07760 419 260 or 01452 422660 or email homeshare@ageukgloucestershire.org.uk