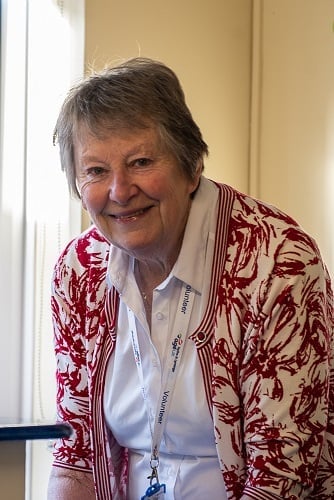 Age UK Hythe and Lyminge relies on volunteers to help us offer vital services in the local community. Would you like to lend a hand?
Volunteering
We currently have 40 regular volunteers who help us provide our services, raise funds and promote our work. We could not operate without their dedicated, talented and enthusiastic support. There are lots of volunteering roles available in the centres and in the community. Here is a selection:Volunteering
Supporting social activities with our clients
Assisting in our shop
Driving - including transporting people and meals
Fundraising and events
Admin.support
By volunteering your life experiences, work skills, talents and abilities can help others in need. It can also help change your life, provide new skills and gain a new outlook on life.
We would love to hear from you if you have a skill you can share with our clients.
We are currently actively searching for volunteers who would like to support those living later life in our community.
We would welcome befrienders and also volunteer meal delivery drivers, especially at weekends. If you enjoy driving and helping others, you would find this very rewarding.
Please download and fill in a Volunteer Application Form. You can drop it off at either centre, post it to our Hythe centre (Stade St, Hythe, CT21 6BD) or email it to mfo@ageukhl.org.uk
We are also recruiting volunteers now for the Personal Independence Project - a new project designed to help people who are over 65, have a long term health condition and have had two or more unexpected hospital admissions in the last year. If you are interested and wish to know more, pleae contact us on 01303 269602
We currently looking for a new member to join our board of Trustees, and also a Treasurer. Please click here for more information on both of these roles.
Volunteering roles with Age UK Hythe or Lyminge.
Could you visit or call a lonely older person? Help us fight loneliness in Anytown by becoming a befriender.

Meet new people, help us raise funds and have fun while volunteering in our shop.

Could you help us to provide vital information and advice to older people in Hythe and Lyminge?
Why volunteer?
Volunteering is a great way to meet new people, learn new skills, and support the work we do in the community.
Who can volunteer?
Almost anyone can be a volunteer. We have a wide range of roles which suit different people and different skills.
How much time do I need to give?
It depends on the volunteer role you are interested in. Some people give an hour a week, other people do more.
What else you can do to support us
Could you help us to raise vital funds by taking part in a fundraising event? We have regular events such as sponsored walks, but you could also do your own fundraiser like a cake sale.

Could you talk to your colleagues or your employer about how you can support us? We have lots of ideas for how organisations can get involved, including sponsoring an event, making us Charity of the Year, or donating equipment.