Salford City Council endorses the Mr Alzheimer's Goes to School Campaign
Published on 25 September 2019 10:53 AM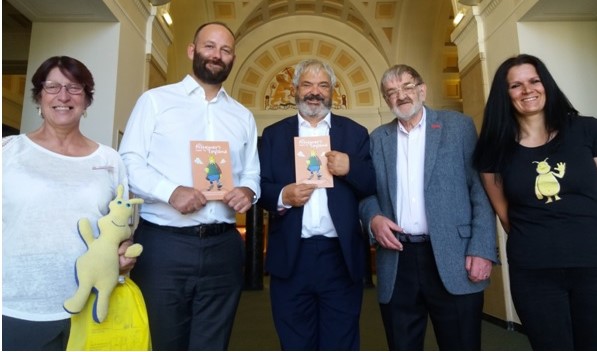 Pictured: Dr Joy Watson, Paul Dennett, Mayor of Salford, Councillor Merry, Councillor Walsh and Amanda Barrell
In recognition of World Alzheimer's Month, Salford City Council has given their full support to the School Campaign. The team from Salford Inspire, an Age UK Salford project, met with Councillor Merry, Councillor Walsh and Paul Dennett, City Mayor at the Salford Civic Centre on Thursday 19th September.
Dr Joy Watson provided the Councillors with an overview of the project, what we are hoping to achieve and the number of primary schools already on board with the Campaign. Joy said: "It was great to have a chance to speak with the Councillors; they took a genuine interest in Mr Alzheimer's and what it feels like for me living with dementia. It's fantastic to have Salford City Council endorse this campaign for World Alzheimer's Day. With their support we are hoping to reach out to all of the primary schools in Salford."
Salford Inspire secured funding from Salford CVS and Dementia United to provide each Salford primary school with training, support and their own Campaign bag that includes – Mr Alzheimer's teddy, Mr Alzheimer's Goes to Toyland story, puzzles and introduction cards for families and friends. Schools are asked to provide a diary for the bag so that students can record their adventures with Mr Alzheimer's.
Salford Inspire is keen to work with the school councils to introduce the Campaign in to their schools. Would you like Mr Alzheimer's to come to your school?
Our next training session for School Council representatives and teachers will be on the 29th November. Please email us to reserve your place and help Mr Alzheimer's get out to as many schools as possible.
Contact Us:
salfordinspire@gmail.com or call Emma - 07791 022429